Outdoor Stone Fireplace Designs
Heat Up Your Summer!
The outdoor stone fireplace designs featured here provide a perfect place to gather round and enjoy the summer with family and friends.  Relive the sights, sounds and smells of your childhood evenings at summer camp with a crackling fire in your own backyard!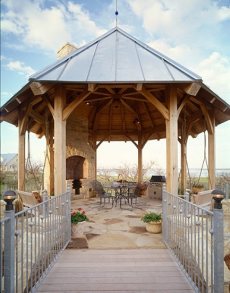 Whether an open air fireplace design or a sheltered hearth in an outdoor pavil-
ion,  such  as  the example pictured at left by Texas Timber Frames in San An-
tonio,  Texas,  summers  will  be  much more  pleasurable  with  your own out-
door stone hearth!
The rugged open air fireplace design that follows is by Landscape Aesthet-
ics, based in Bernardsville, New Jersey.   Beautifully crafted from fieldstone and natural boulders,  it features a unique -- but striking -- circular firebox opening framed by a series of wedge-shaped stones called  voussoirs.    A bluestone patio and plantings complement the design.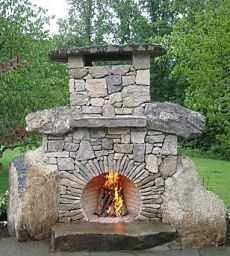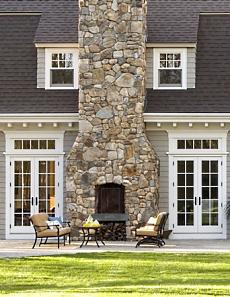 The  beautiful  fieldstone fireplace at the  rear  of  the  traditionally-styled home pictured at right and below has an imposing presence.    Designed by Oak Hill Architects,  based in Weston Center,  Massachusetts,  it is flanked
by elegant French  doors  leading  to
an expansive terrace.
More Outdoor Stone Fireplace Designs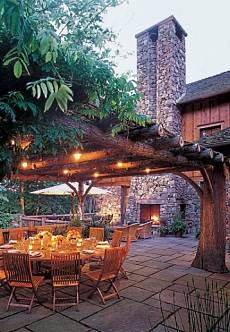 The majestic soaring stone fireplace pictured  at right features a distinc-
tive  "split"  or "divided" chimney de-
sign for added architectural interest.   In   the   foreground,   a  beautifully
crafted rustic pergola with lush cas-
cading ivy provides shade from  the
hot summer sun.
The  outdoor stone fireplace design pictured   below   includes  a  much
more  simple  "open top"  pergola in
the foreground.     Used primarily to define  the outdoor living area,  the pergola  adds  a  nice  architectural
touch to the overall composition.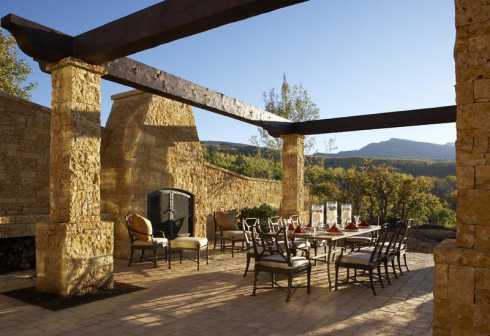 See More Outdoor Fireplace Designs with Pergolas

Pictured at right is a lovely log home   at the Roaring Fork Club in charming Basalt, Colorado. It features a wrap-
around porch with a prominent  out-
side  corner  fireplace  crafted  from
river stone . . . . .
A close-up of the fireplace and wraparound porch (below) reveals a great deal of handcrafted detailing set amidst a pristine lake and mountain set-
ting.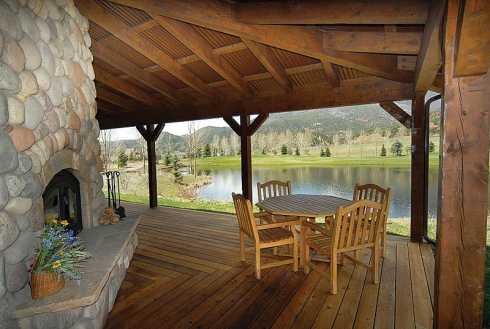 The Appalachian-Style log cabin that follows is located in the State of Washington.  Anchoring its large wraparound porch is a towering stone hearth on a raised stone terrace.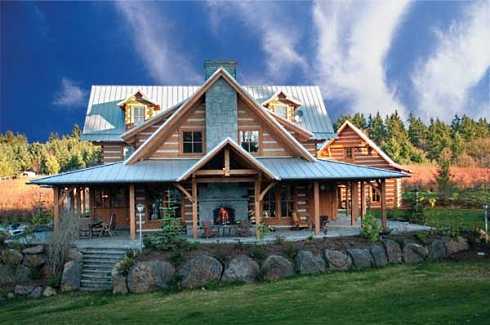 The  massive stacked stone fireplace with oversize chimney pictured below is part of a magnificently handcrafted hunting lodge in South Carolina. Built by Hearthstone Log & Timber Homes and a group of extremely talented  lo-
cal craftsmen, this incredible structure  can  be  seen  at  our  sister  site, www.standout-cabin-designs.com.
See More Stacked Stone Fireplace Designs
And finally,  the charming stone fireplace that follows is one of several in a majestic mountain retreat built by Summit Handcrafted Log Homes in Jack-
son  Hole,  Wyoming.     Resting  on a small stone terrace under a covered porch  that  extends  from  the  master  bedroom suite, the outdoor stone hearth provides a romantic focal point for this intimate setting.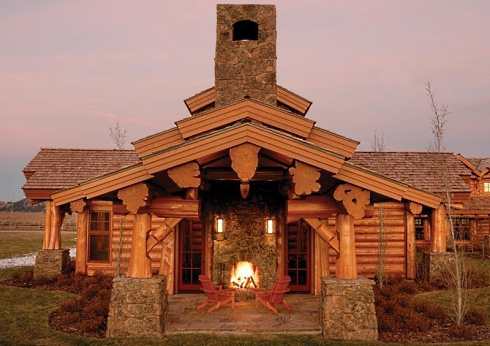 See More Stone Fireplaces in this Majestic Mountain
Home at our sister site, Standout-Cabin-Designs.com!

Please check back often or subscribe to our  RSS feed,  as  we  fre- quently add new outdoor stone fireplace designs to our site.
YOU MAY ALSO LIKE:
More Stone Outdoor Fireplaces!


Back to Outdoor Fireplace Designs
Back to Stone Fireplace Designs Guide

Back to Standout Fireplace Designs Home Page
Didn't find what you were looking for?
Use this search feature to find it.

LIKE THIS PAGE?