Patio Designs for Fireplaces...
Bricks & Stones!
The patio designs for outdoor fireplaces featured  here  include  striking examples of both brick and stone hearths, as well as innovative designs that combine the two materials in very creative ways, such as the one pictured below. Fashioned from salvaged clinker bricks, it echos the dis-
tinctive Arts and Crafts detailing popularized by architects Charles and Henry Greene in California in the early 20th century!
Photo Credit (above): The Seattle Times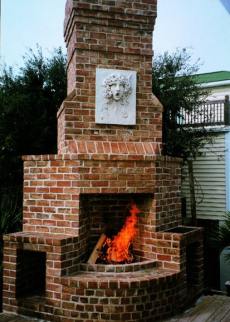 The  striking  outdoor brick fireplaces pictured  at  left and below were cre-
ated by McGee Masonry in Charleston, South Carolina.  They feature all brick exteriors with decorative detailing, as well  as built-in storage areas for fire-
wood.
See More Brick Patio Designs for Fireplaces with Built-Ins


The two patio designs for brick outdoor fireplaces that follow were crafted by StoneAge Stonescaping, based in Cumming, Georgia. The formal design pictured directly below features stone accents over the top of the arched firebox opening, as well as a stone mantel shelf and hearth cap. Note the decorative brick arch at the top of the chimney.
The handsome brick outdoor fireplace  design  that  follows  also  features stone accents, including cap stones on the raised hearth, above the wood storage areas, and the mantel shelf with brackets,  or corbels.   Also note the stone panel on the face of the chmney,  framed by decorative brick-
work.
See More Brick Outdoor Fireplace Designs with Stone Accents


The quaint and rustic outdoor fireplace design that follows was crafted by Jeffrey Yoder Masonry, based in Hartville,  Ohio.   It features light colored brick  and  a  curved hearth capped with stone, as well as a stone mantel shelf. In addition, an assortment of stones has been randomly attached to the  chimney  facing  to tie the design to the little stone cottage to which the fireplace and chimney are attached. Once again, note the curved brick arch on the chimney top.
More Patio Designs for Outdoor Fireplaces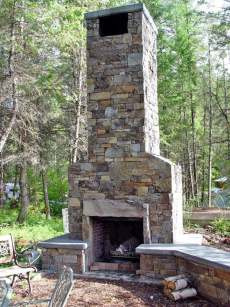 The   stone outdoor fireplaces  that follow  do  not use any brick in their designs. However, they feature con-
trasting  stone work for more visual appeal.     The fireplace pictured at
right   was   created   by   Heritage
Hearths Masonry  in  Kalispell,  Mon-
tana  and  is crafted from stones of varying sizes,  shapes and colors to break up the massing and lend archi-
tectural interest.
The fireplace design pictured below is more formal in appearance.  Crafted by StoneAge Stonescaping, it features a band of vertically oriented stones above  the  firebox opening, as well as a large keystone for added interest. As with the patio floor, flagstone is used on the extended raised hearth with built-in seating.   In stark contrast to the smooth finish of the hearth,
a roughly textured boulder is positioned on each end.
The lovely patio design that follows features a  hipped  roof  supported  by classic columns on stone pedestals.    The handsome stone fireplace in the background is by Landscape Aesthetics, based  in  Bernardsville,  New  Jer-
sey.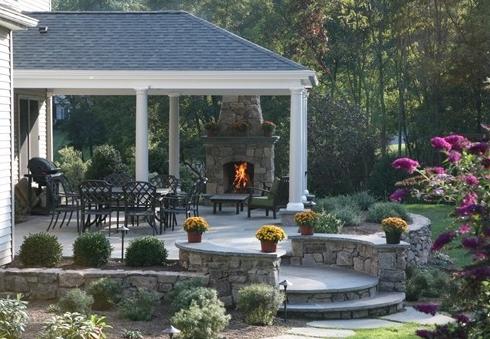 See More Patio Roof Designs for Outdoor Fireplaces


The covered patio design pictured below features a fieldstone fireplace. Crafted by StoneAge Stonescaping in Georgia, it includes a sawn stone mantel shelf and hearth cap with roughly textured edges.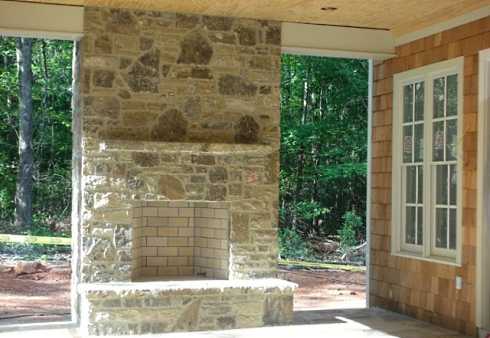 See More Covered Patio Designs for Outdoor Fireplaces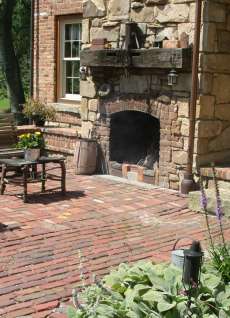 Shown  at right and below is another picturesque brick and stone fireplace design  by Jeffrey Yoder  Masonry in Ohio.   Attached to a romantic stone and brick cottage,  the outdoor patio fireplace   is   crafted  primarily  from
stone  with brick accents around the firebox  opening,   as  shown  in  the close-up at right.
Decorative brickwork is also used near the top of the chimney,  where  it extends  upward  for  several  feet and is crowned by four chimney pots. Echoing the brickwork near the top,  a charming shelf crafted from bricks supports potted miniature trees about halfway up the chimney.
See More Picturesque Stone & Brick Cottages
at our sister site, Standout-Cabin-Designs.com


And  finally,  the patio design that follows features another brick and stone fireplace by Jeffrey Yoder Masonry.    It includes a raised hearth with built-
in  seating  and  firewood  storage.  A finely crafted wood pergola rests on stone pedestals at each end of the hearth.
See More Patio Pergola Designs for Outdoor Fireplaces

Please check back often or subscribe to our  RSS feed,  as  we  fre- quently add new outdoor fireplace designs to our site.
YOU MAY ALSO LIKE:




More Outdoor Patio Fireplace Designs
Homeside to Poolside!





Outdoor Fireplace Design for
Patios, Porches, Pools & Pergolas!
Back to Outdoor Fireplace Designs
Back to Standout Fireplace Designs Home Page
Didn't find what you were looking for?
Use this search feature to find it.
LIKE THIS PAGE?