The Finely Crafted Brick Fireplace
Inspired by the Past!
The brick fireplace designs featured here borrow from the past and blend it with the present to create some very striking brick hearths, such as the design pictured below, right, by master artisan, Clay Chapman!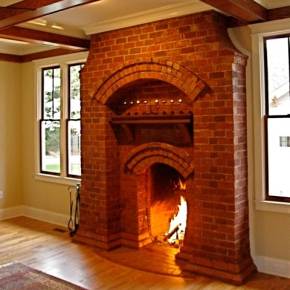 Today's  renewed  appreciation   for quality craftsmanship  and  detailing causes  us  to  look  to the past for inspiration,  such  as  the Craftsman Style,  popular  at  the  turn  of the
20th  century.     The stunning brick surround pictured at left  is  located
in  Pasadena,  California,  in  the leg-
endary   Gamble  House,   a  master-
piece of Craftsman design completed
in 1909.
Photo Credit (left): Mark Fiennes

More Craftsman Fireplace Designs
The striking fireplace designs that follow borrow from architectural styles of the past.   Pictured below,  left,  is a Colonial Revival fireplace for a Shingle Style home,  designed by Polhemus Savery DaSilva Architects/Builders, one of the outstanding architectural design firms in the U.S.
The fireplace design  pictured  below,  right,  was  inspired  by  the  Prairie School  movement,   led  by  architect  Frank  Lloyd  Wright  (1867-1959). Though a late 19th and early 20th century architectural style,  the  Prairie School fireplace featured here has a contemporary flair!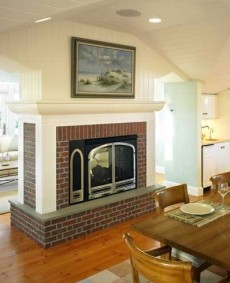 The Rumford fireplace design pictured at right was built by Monterey Mason-
ry, based in Sheffield, MA. It features intricate  diamond  pattern  diapering made of granite.


More Rumford Fireplace Designs


More Granite Fireplace Designs

More Brick Fireplaces
The  brick  hearth designs that follow feature brick tiling around the firebox openings for added architectural interest.  The beautifully detailed fireplace pictured below,  right,  also has tile accents on the mantel shelf, as well as on each of the pillars flanking the firebox.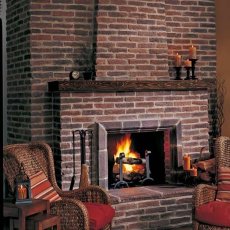 More Masonry Fireplace Designs

More Fireplace Mantel Shelves
Needless to say, the brick fireplace design that follows is striking!  It also features a bluestone hearth and mantel shelf with a granite keystone just below the mantel shelf.
The brick hearth image at right was captured through the lens of  highly talented architectural photographer, Roger Wade.   Note the timber work framing the fireplace,  including the wood mantel shelf.
The  grand  fireplace  pictured below was designed by Summerstone Pro-
ductions in Flint,  Michigan.   At 22 ft. long x 8 1/2 ft. high,  it features a large raised hearth with steps leading up to it on either side.    A massive wood mantel shelf helps to balance the overall design.
More Wood Fireplace Mantel Shelves


Please check back often or subscribe to  our  RSS feed,  as  we  fre- quently add  new images of finely crafted brick hearth designs to our site.
YOU MAY ALSO LIKE:




More Brick Hearth Designs -
Handcrafted Masterpieces!



Brick Patio Designs For Fireplaces -
Brackets & Built-Ins!




Standout Outdoor Brick Hearths -
Delectable Decorative Detailing!




The Brick Outdoor Fireplace -
So Much MORE Than Bricks & Mortar!
Back to Standout Brick Fireplaces
Back to Standout Fireplace Designs Home Page
Didn't find what you were looking for?
Use this search feature to find it.

LIKE THIS PAGE?