Roughing It...
American Gilded Age Style!
American Gilded Age style was, contrary to public perception, not always about charity balls and other formal occasions in gilded ballrooms  full  of bejeweled guests tended by scores of footmen in livery.   After all,  even wealthy socialites needed a break from the demands of running their gilded mansions and attending to their busy social calendars.  Getting away from it all for some rest and relaxation was as derigueur or important to them as it is to the rest of us.
However, unlike most of us, their "idea" of getting away from it all involved far more than simply pitching a tent and building a campfire in some re- mote area of the wilderness.  Rather, elaborate planning and an entourage of servants was required to make their "escape" from the hustle and bustle of everyday life a reality.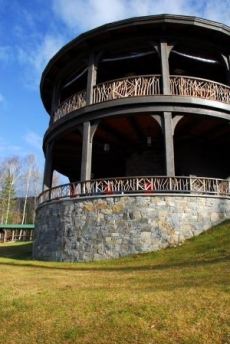 According to author Michael DeCourcy Hinds in his book, ADIRONDACK SURVIVORS:
RUSTIC 'GRAND CAMPS',

"They arrived in private railway cars, sped through the woods in covered surreys and cruised across lakes in mahogany boats before reaching  their summer places in the Adirondack Mountains of northern New York.  They called their one or two thousand acre estates 'camps' in the same spirit that they called their marble palaces   in Newport, R.I., 'cottages.'"
The significant elements of the Adirondack Style are  log construction  -- often  artfully woven with rough bark on both interiors and exteriors -- native stone work carefully assembled like pieces of a jigsaw puzzle for fireplaces and chimneys, and decorative rustic work of twigs and branches for balusters and railings.
The "Great Camps" were large compounds carved out of the wilderness -- usually near a lake. They generally consisted of a main lodge surrounded by a large number of  separate  buildings for guest quarters, dining, sitting rooms and recreation.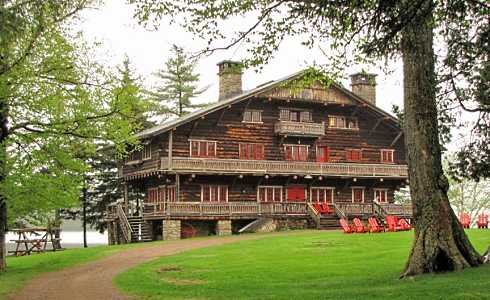 Sagamore Lodge (pictured above), built between 1895-1897 and once owned by Alfred Vanderbilt, had no shortage of recreational opportunities for family members and their guests. The Vanderbilts stocked Sagamore Lake with fish and the 1,500 acres of wilderness preserve surrounding it were stocked with game for hunting.  Other recreational pursuits included ping pong, billiards and roulette in the Playhouse, as well as croquette, tennis and bowling.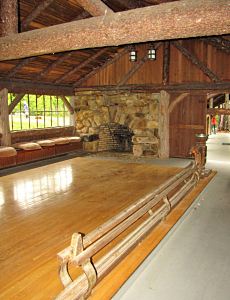 The two lane bowling alley with stone fireplace pictured at right and below was constructed in 1914.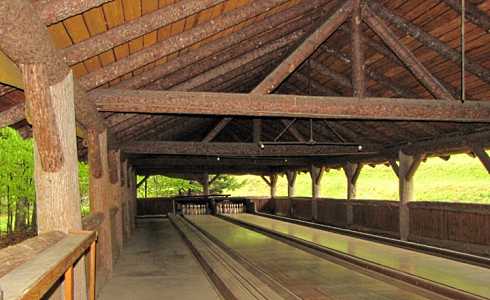 No Adirondack Great Camp of the American Gilded Age was complete without a great stone hearth in each of its principal buildings. Pictured below, left, is the massive fireplace in the main lodge at Sagamore. Below, right, is the equally monumental stone hearth in Sagamore's Playhouse.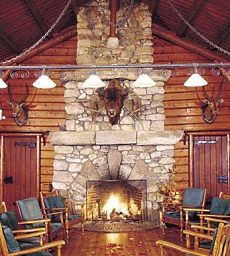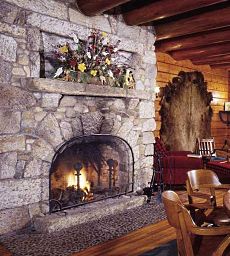 American Gilded Age Camps

A Brief History
The advent of the Adirondack Great Camp began in 1877 with the building of Camp Pine Knot  (pictured below) by the  "father" of Adirondack Great Camp architecture,  William West Durant. Erected over a thirteen year period, Durant eventually ran out of money and sold the property to industrialist and railroad tycoon, Collis P. Huntington, before going on to build Sagamore Lodge, referenced above, which he subsequently sold to Alfred G. Vanderbilt in 1901. As with later Great Camp designs, solid and substantial stone fireplaces (second row, below) anchored many of the buildings in the Camp Pine Knot compound.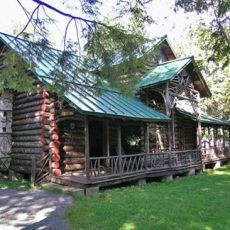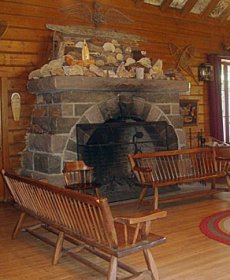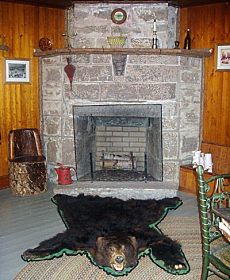 Beginning in 1890, not far from Sagamore Lodge, William Durant built Camp Uncas, which he sold to financier J. P. Morgan in 1895. Pictured below is the rambling rustic main lodge, crafted from bark-covered logs  (top row).  
Pictured in the second row, below, is the boathouse (left) and an outdoor pavilion (right).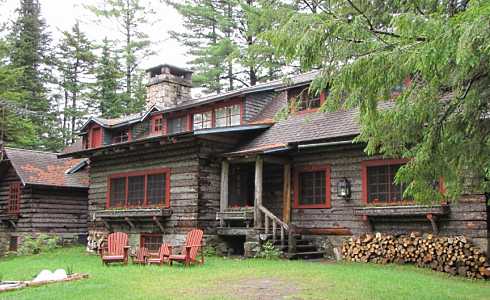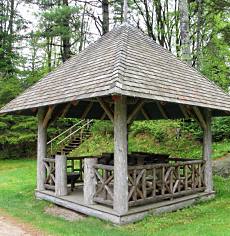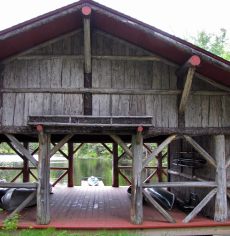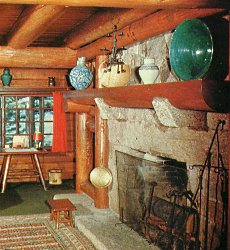 The rugged exterior of Camp Uncas carried  through  to the interior, as shown  at right by the rustic stone slab fireplace in Mr. Morgan's bedroom. A massive fieldstone fireplace in the dining hall (below) was described by one contemporary of the American Gilded Age as being "as big as some Manhattan apartments!"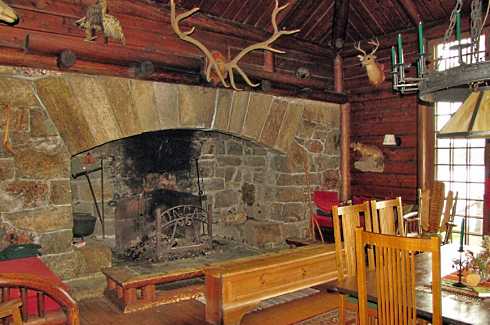 Pictured  below, left, is a close-up of the great stone hearth in the Playhouse at Sagamore. The photo on the right with fireplace inset is of Schuyler Kathan, a stonemason known throughout the Adirondack region for the quality of his stonework and the sharpness of his wit. Each of the fireplaces he designed for William West Durant's Main Lodge at Sagamore is distinct in its artistry.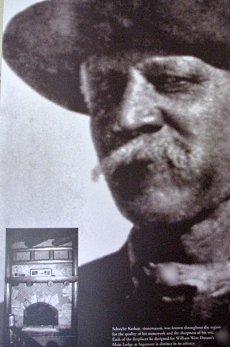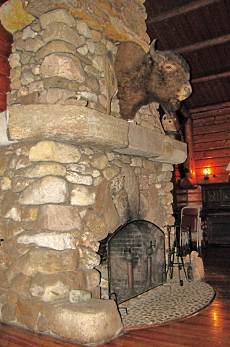 See the Work of One of Today's Foremost Artisans
of American Gilded Age Rustic Stone Fireplaces!
The present-day photo of Sagamore Lake (below) portrays the beauty of the region to this day!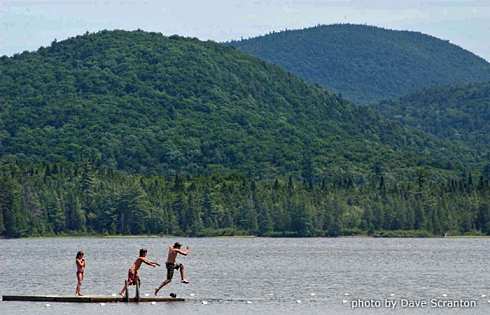 Please check back often or subscribe to our RSS feed,  as  we  fre- quently add new images of American Gilded Age fireplace designs to our site.
YOU MAY ALSO LIKE:

More American Gilded Age
Rustic Stone Fireplaces!

Gilded Age Fireplace Designs -
Monumental, Majestic...and Rustic?

Back to Stone Fireplace Designs Guide

Back to Stone Fireplace Designs Overview
Back to Standout Fireplace Designs Home Page
Didn't find what you were looking for?
Use this search feature to find it.

LIKE THIS PAGE?