Patio Roof Designs for Fireplaces
An Exciting Array of Styles!
The patio roof designs for outdoor fireplaces featured here encompass a broad and exciting range of architectural styles in both the structures and the stone hearths.  Whether rustic, traditional or contemporary in design, there is something here for just about everybody!
Obviously,  the primary purpose in cov-
ering  your  outdoor fireplace is to pro-
tect you and  your  family,  as  well  as your guests, from the elements.   As a result, it becomes more useable -- and enjoyable -- for a longer period of time each  year . . . even when the weath-
er is less than cooperative.
The  wooden posts supporting the roof at  left,  as well as the clay barrel tiles that cover it,  give this design a Span-
ish Revival "flavor."    Flagstone flooring surrounds  the  base  of  the  majestic outdoor stone hearth.
The contemporary design pictured below features a  slate stone  fireplace. Floor to ceiling curtains offer additional protection from direct sunlight and rain.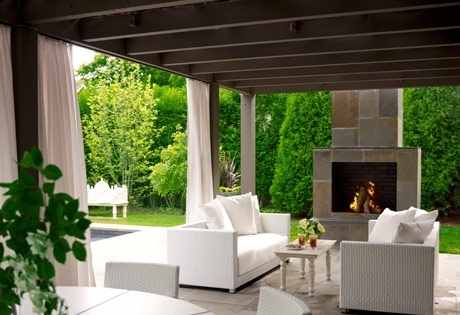 The rustic mountain retreat that follows features a beautifully handcrafted gabled patio roof design by Gregg and Company Builders, based in Wolcott, Colorado. Note the tall French doors that flank the fireplace, as well as the massive stone chimney that protrudes through the roof.
See More Rustic Retreats with Covered Patio Fireplace Designs


The  stunning corner Spanish-inspired fireplace pictured below is tucked beneath a barrel vaulted roof design that extends beyond the elaborate metal patio doors.  Fire brick in an elegant herringbone pattern lines the firebox of this beautiful hearth.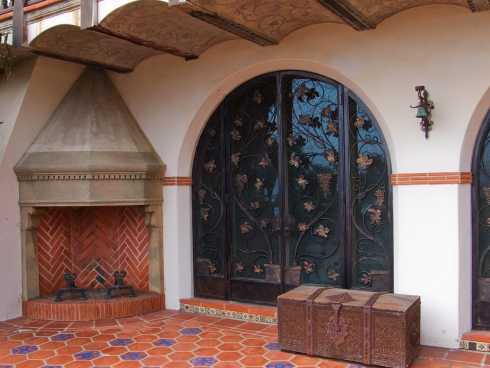 See More Spanish Style Fireplace Designs


A tray ceiling lined with wood adds drama  to  the  striking  loggia  pictured below. Echoing the formality of the grand arched openings is a monumental stone fireplace design by GCAT Group, based in Ontario, Canada.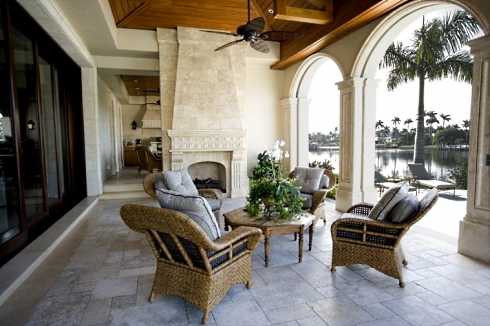 Another beautifully executed loggia is pictured below. Designed by Harrison Design Associates in Atlanta, Georgia,  it  features  a  striking  ceiling  with elaborate  vaulting  and  two  massive carved stone fireplaces resting on a black and white marble tile floor.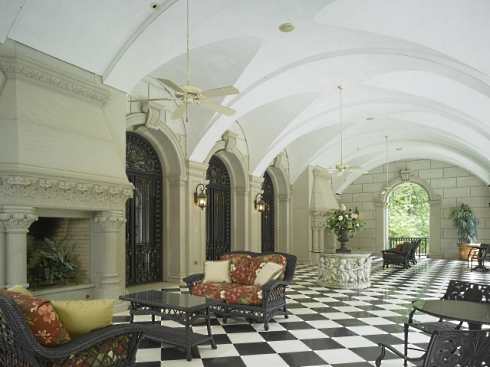 Viewed from the exterior (below left),  a  large upper level terrace with a classical balustrade stretches over the first floor loggia. Below, right, is a close-up of one of the handsome fireplaces pictured above.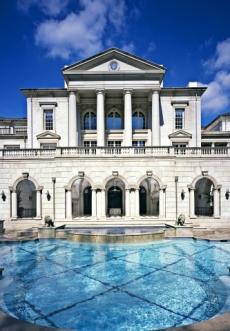 More Patio Roof Designs for Fireplaces
The  remaining patio roof designs featured here are for independent struc-
tures that are detached from the main house. The beautifully sited water-
side patio that follows has a gable roof design covered with cedar shingles and  supported by wood posts resting on a stone foundation and surround that blends seamlessly into a large stone fireplace and chimney.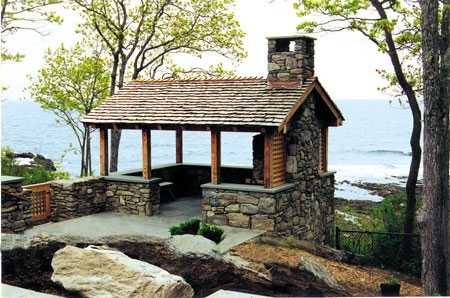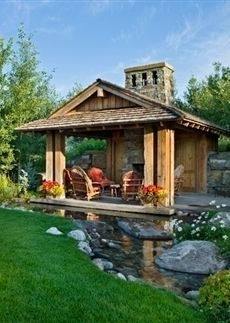 Pictured  at  right  is a simple wooden structure  with a gable and partial hip roof. Centered on the rear wall, which is  built into the side of a bank with a stone retaining wall, is a  large  stone fireplace   and   chimney   that   rises through the gable peak.
The covered structure that follows is crafted from stone and integrates a stone fireplace with flanking benches. Clay barrel tiles cover a gently slop-
ing roof.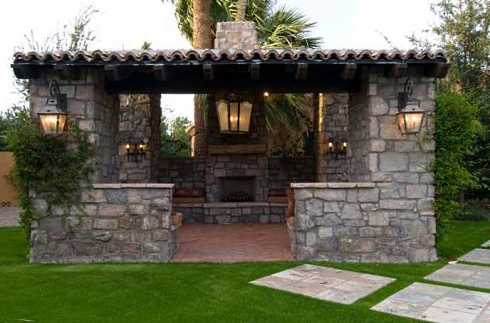 And finally, each of the patio structures that follow is sited next to a pool. Below,  left,  is  a gable roof design with  Craftsman Style  detailing and a stone fireplace.
The hipped roof design pictured below, right, features Tuscan columns and a tiled roof.  Crafted by Green Scene Landscape in Northridge, California, it includes an elaborate stone fireplace with built-in storage areas  for  wood that flank the arched firebox opening.  A tiled inset above the mantel shelf adds both visual and architectural interest to the overall design.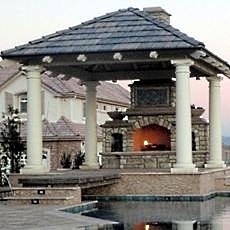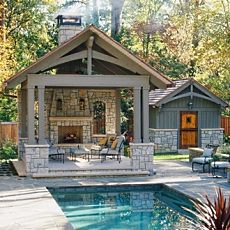 Please check back often or subscribe to our RSS feed,  as  we  fre- quently add new patio roof designs for outdoor fireplaces to our site.
YOU MAY ALSO LIKE:


More Patio Roof Designs for Outdoor Fireplaces -
Undercover Enjoyment!
Back to Outdoor Fireplace Designs
Back to Standout Fireplace Designs Home Page
Didn't find what you were looking for?
Use this search feature to find it.

LIKE THIS PAGE?