Patio Stone Designs for Fireplaces
Take it for Granite!
The patio stone designs for outdoor fireplaces featured here are solid as a rock.  More specifically, they are solid as granite, one of the hardest stones known to man -- surpassed only by diamonds, rubies and sapphires!
The  granite  used for each of the out-
door patio  fireplace  designs  featured here is from Champlain Stone, based in Warrensburg, New York.   Among other natural stones, the company's product line  includes  a  variety of high quality granite types that  are  available  in  a wide  range  of  stone  sizes,   shapes, cuts and textures.  The massive, semi-
circular patio fireplace pictured  at left is crafted from the company's Corinthi-
an  Granite.     It features a variety of stone  cuts  including  ashlar,   roughly squared/roughly rectangular,  and  thin sawn corner ashlar.    Note the built-in storage area for firewood beneath  the raised hearthstone.
The striking outdoor fireplace and patio wall design in the two images that follow is crafted from Champlain's Van Tassell Granite.  It features a blend of random mosaic pattern veneer and roughly squared/roughly rectangular stone cuts.   Note how the arch over the mantel shelf echoes the arched firebox  opening.     Also note the beautiful herringbone pattern of the fire brick on the interior of the firebox.
More Patio Stone Designs for Fireplaces
The two patio stone designs for fireplaces that  follow  are  crafted  from Champlain Stone's Summit Granite.     The  design  pictured  below,  left, features stone work in a random mosaic pattern.    Note the "wraparound" hearth.
Pictured below, right, is a fireplace design with roughly square and roughly rectangular stone cuts. Slide-in racks are ideal for outdoor grilling.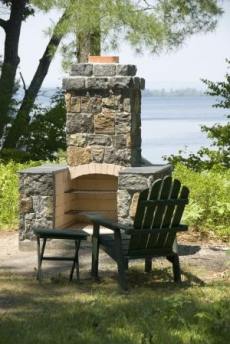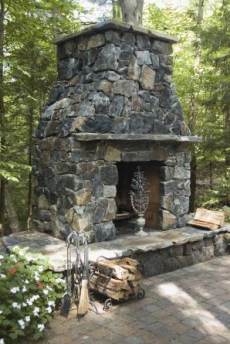 The outdoor patio fireplace design that follows is shown from two different angles.     Crafted  from  Corinthian Granite,  the  stone is cut into roughly square and roughly rectangular shapes.    Framing the upper portion of the arched firebox opening are  wedge  shaped  stones,  or  voussoirs,  and  a prominent keystone centered on top of the arch.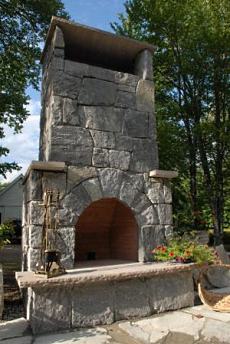 And  finally,  the  rugged  stone fireplace that follows is built into a hillside. Large boulders of Champlain's American Granite were used in its construc-
tion.    Adding  to  the  rustic  look and feel is a chair and pair of benches crafted from logs.
Please check back often or subscribe to our RSS feed,  as  we  fre- quently add new stone designs for outdoor fireplaces to our site.
YOU MAY ALSO LIKE:


More Patio Stone Designs For Fireplaces -
Homeside To Poolside!





Covered Patio Designs For Fireplaces -
Undercover Enjoyment!




Patio Roof Designs for Fireplaces -
An Exciting Array of Styles!
Back to Outdoor Fireplace Designs
Back to Standout Fireplace Designs Home Page
Didn't find what you were looking for?
Use this search feature to find it.

LIKE THIS PAGE?