More Cowboy Country Stone Fireplaces!
The rustic charm of cowboy country stone fireplaces is undeniable.  Warm and inviting, they evoke nostalgic images of the Old American West!
Warm and inviting rustic charm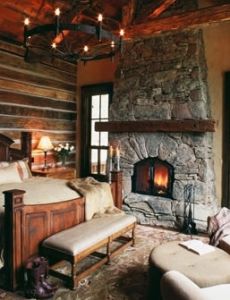 The striking stone hearth at right is  a picture perfect example of this.     En-
hanced  by  the  warmth  of  a wall of squared off  hand-hewn logs  . . . . . . along  with open trusswork made from full  size  logs  that  span  the  ceiling area  . . . . . the room has a  richness that likely surpasses  that  of  its  pre-
decessors nearly a century and a  half ago!
The two country stone fireplaces  pic-
tured  below  are  also warmed by the backdrop  of  logs  that  frame  them. Though  each  design  incorporates  a mantel shelf  crafted  from a naturally formed  log,  the example below left is especially notable due to  its  massive size and "cutout" shelving area.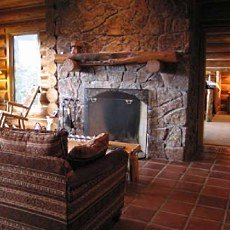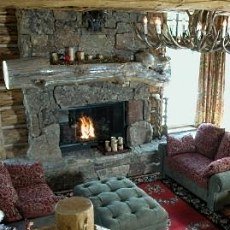 The  following  two stone hearths also incorporate mantel shelves made of logs.    However, while the example below left is, once again,  crafted from
an  organic,  naturally formed log shape,  the design pictured below right is composed  of  two  fairly  straight  logs stacked on top of one another and held together by hand-wrought iron banding.    A  slightly curved cutout in the lower log mimics the arch in the firebox opening beneath it.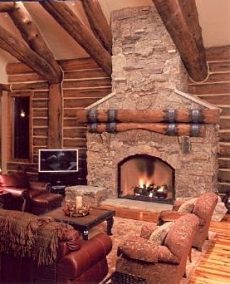 More Rustic Wood Mantel Shelves
The two rugged stone designs which follow use salvaged timbers for mantel shelves.    The natural shape and contours of a large step slab are used to great advantage in the striking hearth design at the base  of  the  fireplace pictured below right . . . . . as well as in the hearth design pictured directly beneath it.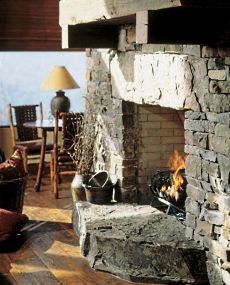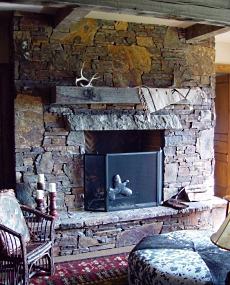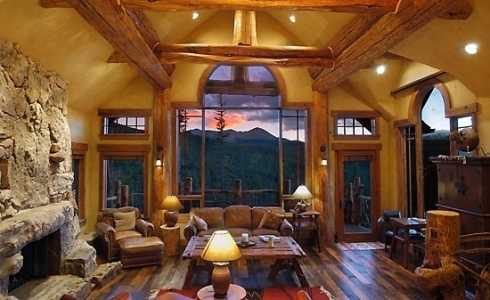 More Country Stone Fireplaces
The following images provide a sampling of the wide range of possibilities in rustic stone fireplace designs.  Note the variety of natural stone sizes, shapes, colors and textures employed to achieve a wealth of different looks!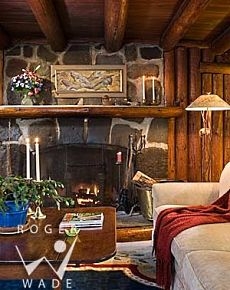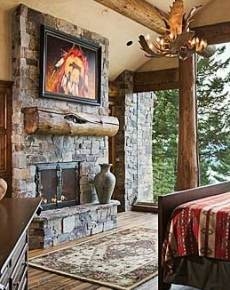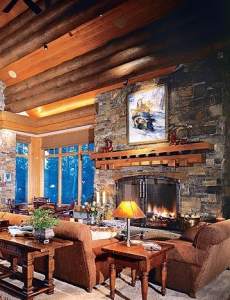 The monumental, multi-storied stone fireplaces pictured below have a com-
manding presence as a result of their overall size and massing.    The large stone slabs used to frame the firebox opening in the  example  below,  left, enhance the monumentality of the design.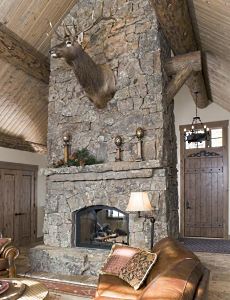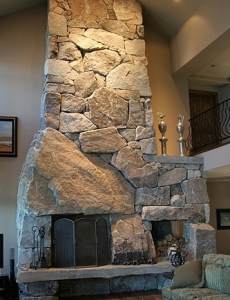 More Monumental Stone Fireplace Designs

And finally, the following image depicts the best of both worlds.  Two charming country stone hearth designs -- one for indoors -- and one for out!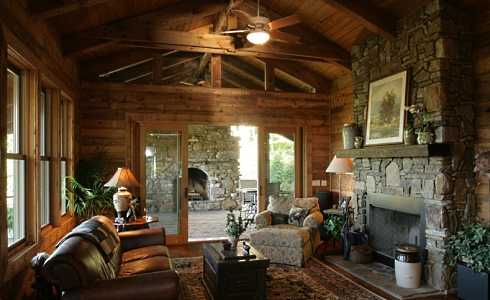 Please check back often or subscribe to our RSS feed,  as  we  fre- quently add new images of rustic stone hearths to our site.
YOU MAY ALSO LIKE:




Cowboy Country Stone Fireplaces -
A Roundup Of Exceptional Designs!





The Country Stone Corner Fireplace -
Cozy, Casual & COLOSSAL!





More Country Stone Hearths -
Country Rock Meets Rolling Stones!
Back to Stone Fireplace Designs
Back to Standout Fireplace Designs Home Page
Didn't find what you were looking for?
Use this search feature to find it.

LIKE THIS PAGE?