Wood Fireplace Surround Design...
MORE Country Casual Mantels!
The cozy fireplace surround design images shown here feature country casual mantels carefully handcrafted from wood . . . . .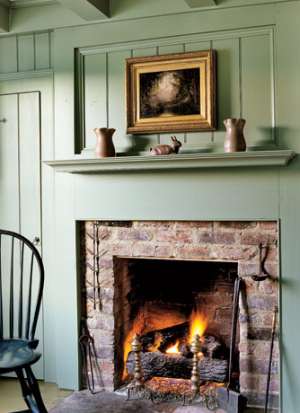 . . . . . Warm and inviting, they beckon us to gather round and relax with a good book, good conversation, and good times!
"Country casual" means different things to different people.      As a result, we've  included  a  broad spectrum of examples that range from somewhat primitive early American designs . . . . . to fairly simple but elegant Colonial Revival styles . . . to finely crafted and finished Arts and Crafts surrounds.
Much  of  the  work  featured here, in-
cluding the examples at left and below, is  by  Jaeger & Ernst Custom Cabinet-
makers, based in Barboursville, Virginia, USA.  Both a design and master wood-
working  firm,   its  vast  repertoire  in-
cludes   virtually   every  architectural style. Whether for a cozy cottage or a colossal   castle,   the   firm's   master craftsmen have the talent,  experience and  uncompromising  ability  to create an  entire  interior space  --  complete with    paneling,   cabinetry,   millwork, mantels, window seats and furniture -- that   is   meticulously   executed  and thoroughly appropriate  in  scale,  pro-
portion,  architectural style and detail-
ing  . . . as well as the personal tastes and preferences of the home owner.
The cozy country design that follows is part of a small log cabin renovation in which the firm of Jaeger & Ernst was involved.      By  integrating  simple doors  on either side of the fireplace that match and are flush with the wall surface,  the  previously visible firewood and clutter is concealed in built-in storage areas behind them. The uninterrupted wall surface, in addition to a prominent  horizontal  wood  mantel  shelf crowning the fieldstone fireplace surround,  visually expands the width of the room and "reinstates" the fire-
place as its rightful focal point!
Favorite Field Stone Fireplace Designs
The  early  American  style  wood  fireplace surround design that follows is painted a deep shade of blue,  which is typical of the period.     A  built-in window seat to the right of the fireplace, as well as casual furnishings and decor, contribute to the cozy look and feel of the room.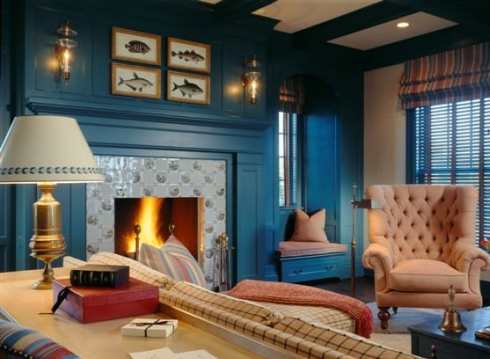 Pictured below is another wood fireplace mantel and paneled wall by Jaeger & Ernst Custom Cabinetmakers.    Adding to the country look are knots and distress marks in the stained wood paneling.     Note how the fabric on the sofa echos the color scheme of the tiled firebox surround.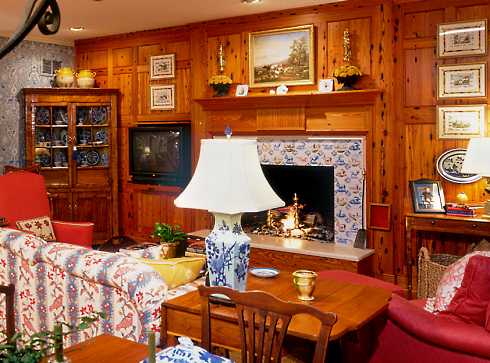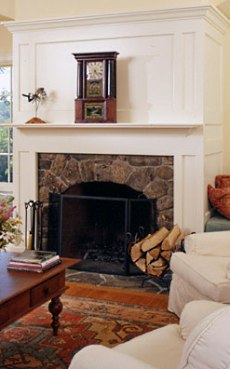 More Wood Fireplace Surround Designs
Pictured at right is a country cottage fireplace in Vermont.     Designed  by Haynes  &  Garthwaite  Architects of Norwich, Vermont, the simple -- albe-
it  elegant  --  fireplace surround fea-
tures recessed  panels  and  a  white enamel finish.    Rustic stone outlines
the  perimeter  of  the arched firebox opening.
The country cottage design that follows is also  by  Haynes  &  Garthwaite Architects. A finely stained and finished wood fireplace surround and flank-
ing built-in bookcases contrast with the painted millwork  and  wainscoting
in  the  room.    Additional color contrast and texture is provided by a brick hearth and brickwork around the firebox opening.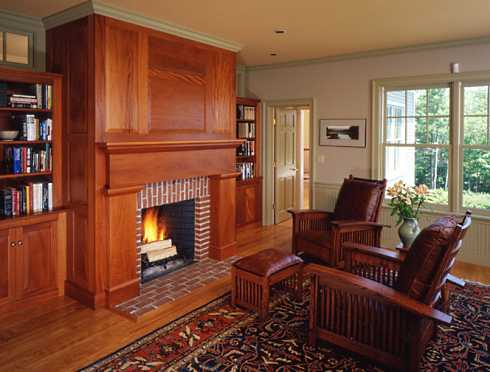 See More Fireplace Surround Designs with Built-Ins
The fireplace surround design that follows is by one of  today's  preeminent American architects, Robert A. M. Stern. Inspired by early American design, the room simply oozes period charm and ambiance!
The last three fireplace surround designs featured here were,  once  again, finely  crafted by Jaeger & Ernst Custom Cabinetmakers.      Designed  and executed in the Arts and Crafts tradition, they derive their inspiration from the late 19th and early 20th century work of the  Greene brothers, Gustav Stickley, and Charles Rennie Mackintosh.
The  design that follows features a warm butternut fireplace surround and paneling.  Built-in bookshelves are framed by handcrafted columns with or-
ganic detailing.
The fireplace surround that follows was inspired by the work of Charles and Henry Greene  at the legendary Gamble House  --  a  1908  masterpiece  of American Arts and Crafts design  --  located in Pasadena, California.   Note the  exquisite  detailing employed by Jaeger & Ernst in the cabinetwork,  as well  as the natural organic flow of vines across the fireplace tiles and onto the cabinet glass!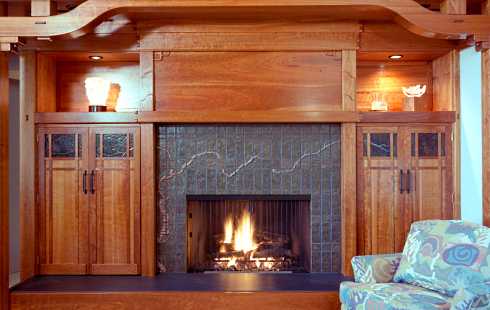 See More Extraordinary Work of the Greene Brothers
The final fireplace surround design featured here,  also  by  Jaeger & Ernst Custom Cabinetmakers, is truly remarkable in both concept and execution! Fully  integrated  into  the  overall design of the room, the floor-to-ceiling fireplace surround is crafted from cherry, with ebony detailing.  Despite its "WOW"  factor,  the room is warm and inviting and succeeds in retaining a casual and comfortable feel.
See More Exciting Arts and Crafts Fireplaces!

Please check back often or subscribe to our RSS feed,  as  we  fre- quently add new fireplace surround design ideas and images to our
site.
YOU MAY ALSO LIKE:




Wood Fireplace Mantel Surrounds -
Rustic To Country Casual!




The Arts And Crafts Fireplace -
A Finely Crafted Fire Space!





Craftsman Fireplaces -
More Standout Fire Spaces!





Contemporary Craftsman Fireplace Hearths -
New Twist On An Old Theme!





The Craftsman Fireplace Mantel Shelf -
Crafted To Perfection!





Wood Fireplace Surround Design -
Understated To Magnificent!
Back to Wood Fireplace Mantels
Back to Standout Fireplace Designs Home Page
Didn't find what you were looking for?
Use this search feature to find it.
LIKE THIS PAGE?