The Custom Wood Fireplace Hearth
Truly Heart(h)-Warming!
The custom wood fireplace hearth, a beautiful collaboration between man and nature,  can stir both the heart(h) and soul.   Few,  if any,  natural materials exude the warmth of wood.    When paired with the hands of a skilled woodworking artisan,  the results  --  pictured below  --  can be mesmerizing!
 Above: Hand-hewn fireplace surround with
  Gothic arch (via Architectural Digest)
As in the design pictured above, the cozy Colonial hearth, below, beckons us to gather around.    Loaded with charm and ambiance,  this masterful present-day creation by Pennsylvania-based architect,  John Milner, embodies our nostalgic yearning for the "good old days."
Photo Credit (above): Geoffrey Gross
Finely grained and richly finished hardwoods such as cherry and mahogany are among the most frequently used woods for custom fireplace hearth designs. However, softwoods like pine or fir can also be employed to form some very striking examples of the woodworker's art. The example pictured below, left, is crafted from knotty pine.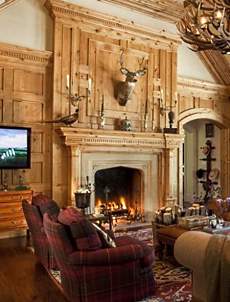 Walnut,  another finely grained hardwood,  was creatively employed in the unique, one of a kind example pictured below, left. In the example pictured below,  right,  note how the relatively simple,  albeit exquisitely crafted surround is used to successfully frame the beautiful herringbone pattern of the firebrick used inside the firebox.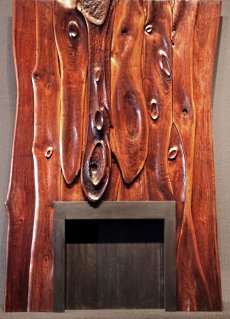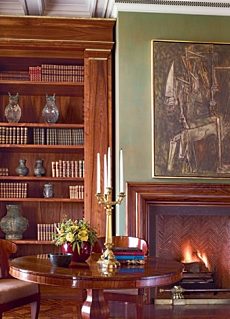 The following example is a beautifully executed Arts and Crafts,  or Crafts-
man design.  Note the built-in seating flanking the fireplace . . . a common feature of the style.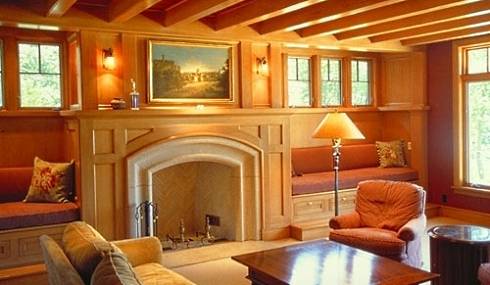 Striking design pictured above by TEA2 Architects
More Beautiful Arts & Crafts Fireplaces
More Wood Fireplace Hearths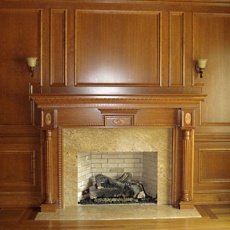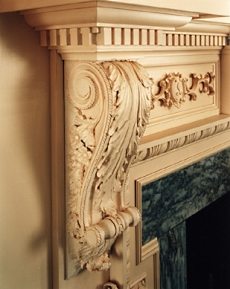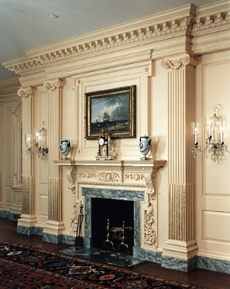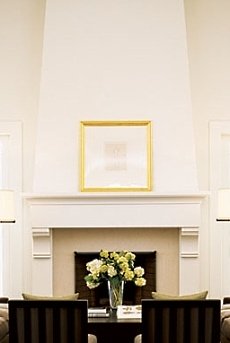 If you're looking for the best there is in a present day custom wood fireplace mantel, you need look no further than the highly skilled designers and artisans behind the incredible examples shown here.    For  more information about any  of  these  talented  individuals and their work, please contact us.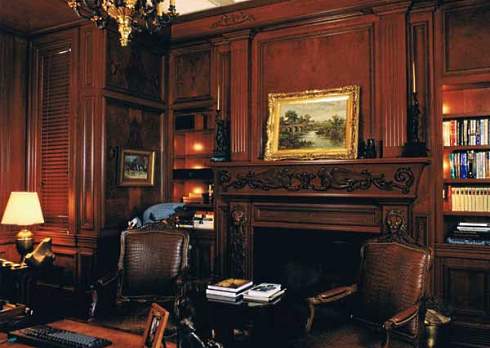 Please check back often or subscribe to our RSS feed,  as  we  fre- quently add new images of custom wood fireplace mantels to our site.  Also, if you know of a skilled designer or artisan that you believe should be featured here, please let us know.
YOU MAY ALSO LIKE:




MORE Custom Wood Fireplace Hearth Designs -
Understated to Magnificent!





Fireplace Mantels Wood -
Extraordinary Custom Designs!





The Wood Fireplace Mantle -
More Extraordinary Custom Designs!
Back to Wood Fireplace Mantels
Back to Custom Fireplace Designs
Back to Standout Fireplace Designs Home Page
Didn't find what you were looking for?
Use this search feature to find it.
LIKE THIS PAGE?