Cultured Stone Fireplaces...




How Do They Stack Up to




Natural Stone?



Cultured stone fireplaces continue to climb in popularity as very realistic looking . . . . . and much more affordable . . . . . alternatives to natural stone fireplaces for both indoors and out.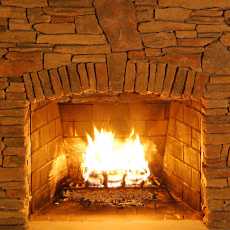 The  term,  "cultured stone,"  --  also
the   name  of  one  of   the   leading brands  --  is  commonly  used  to de-
scribe  all  manufactured  stone prod-
ucts of a similar nature.   When refer-
enced herein, the term shall apply to  all  similar  manufactured stone  prod-
ucts, as well.
Cultured  or  manufactured  stone  is cast   in   flexible  molds  made  from natural stones  and colored with iron oxide  pigments  to  closely  replicate the  look  and  feel  of  natural stone. Available   in  a  vast  array  of  colors  and  textures  to  emulate  a  wide range of natural stone  types  and  styles,  the  multitude of choices gives you a great deal of  flexibility  and  opportunity  to  create  a  realistic and uniquely   personal  fireplace   design.     The  best  examples  of  cultured stone fireplaces  are  virtually  indistinguishable  from  their  natural  stone counterparts,  such as the examples pictured at top right and below.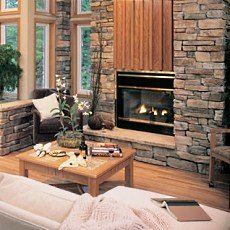 The following examples show how closely some of today's manufactured stone products replicate natural stone.  Each of the four fireplaces directly below is clad with river stone, also commonly referred to as river rock.  The fireplaces on the left (top and bottom) are clad with manufactured stone, while those on the right (top and bottom) use natural stone.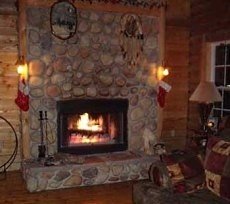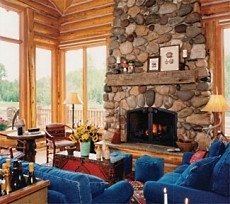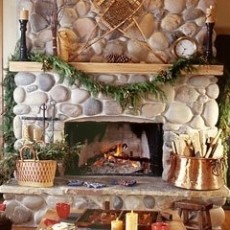 Likewise,  the fireplaces below are all clad with fieldstone of varying colors, textures and finishes for broad geographic appeal.    Once again, the three examples on the left are cultured stone fireplaces, while those on the right use natural stone.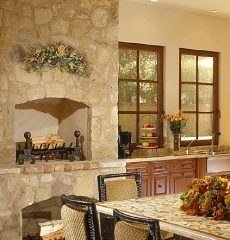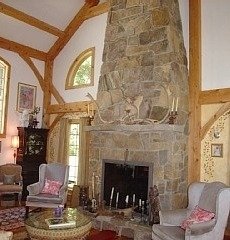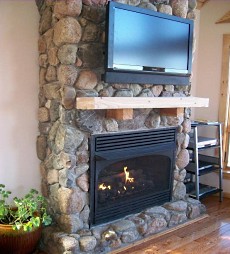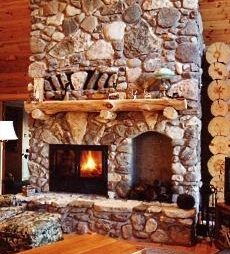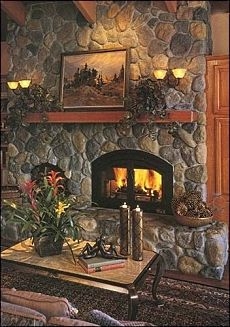 More About Cultured Stone Fireplaces
Made  of  Portland  cement and lightweight aggregate materials,  manufac-
tured stone is approximately two-thirds the weight of natural stone veneer and about one-quarter the weight of full-block natural stone. Unlike natural stone  hearths,  the  light  weight  of  cultured stone fireplaces requires no foundation or footings, or other costly structural reinforcement.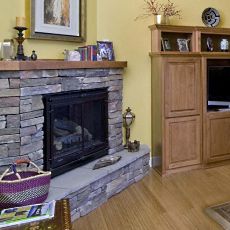 As  a  result  of its light weight and "manageable" sizes and shapes,  manu-
factured stone is much easier to handle and install than natural stone.    It adheres  to any structurally sound wall surface,  making it an ideal cladding material for fireplaces.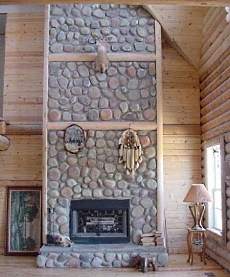 Manufactured  or cultured stone is strong and durable and virtually mainte-
nance free,  due,  in part, to full color integration during the manufacturing process  by  many  of today's producers.    Now,  when a cultured stone is chipped,  you no longer see a glaring white or gray spot.    Rather,  just as with natural stone, the exterior color is embedded within the manufactured stone product.  Non-combustible and safe as a fireplace material, the qual-
ity  has  improved  so  much in recent years that many manufacturers now offer a 50 year warranty on their faux stone products.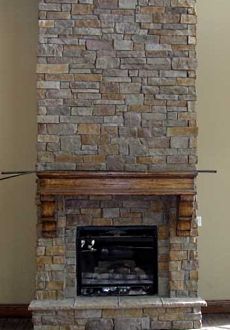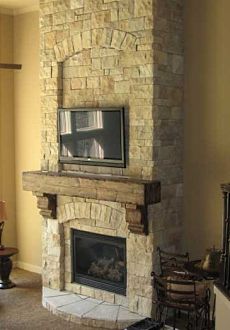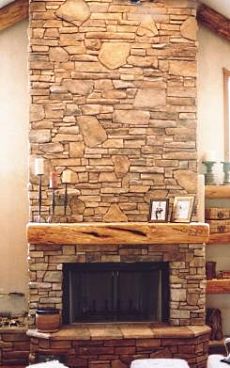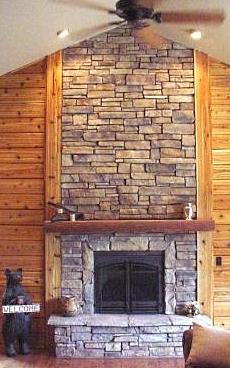 Now  that  it  is  possible  to  get  the  look  and feel of natural stone with cultured  stone  hearths,  one  of  the  biggest  benefits  is the lower cost. In addition to the lower cost of the material,  itself,  its light weight makes it  easier  and  faster  to  handle,  thereby lowering the cost of installation, as  well.   Its  light  weight  also eliminates the need for special footings or other  costly structural reinforcements.   And finally, because it is so much lighter in weight than natural stone, shipping costs are significantly lower.
Please check back often or subscribe to our RSS feed,  as  we  fre-
quently add new images of cultured stone hearths to our site.

YOU MAY ALSO LIKE:


More Cultured Stone Fireplaces
Back to Stone Fireplace Designs
Back to Standout Fireplace Designs Home Page
Didn't find what you were looking for?
Use this search feature to find it.

LIKE THIS PAGE?