Fireplace Mantle Stone...
The "A" List of an All Star Cast!
Fireplace mantle stone . . . . . . custom cast by the best cast stone artisans available today, has resulted in some remarkable designs . . . . .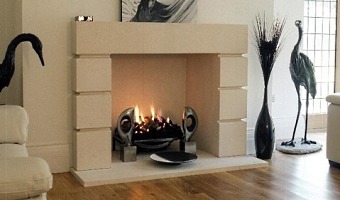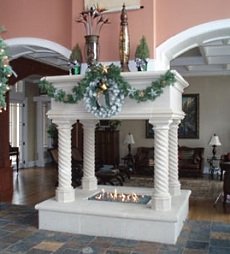 Though cast stone has been used to craft fireplace mantles  for  hundreds
of years,  advances  in  mixtures, as
well as in casting and finishing tech-
niques, have made it virtually impos-
sible  to  distinguish between natural stone and high quality cast stone.
The  versatility and  "malleability"  of cast stone  has also made it easier - and less costly - to fabricate unique and  unusual  designs,  such  as the striking gas-fired hearth at right and
below.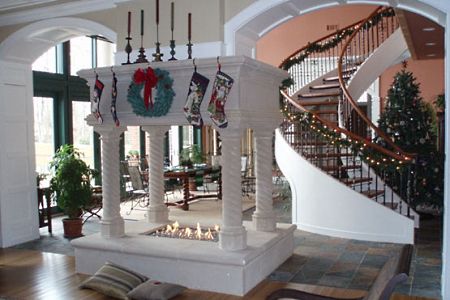 In addition to fireplace mantles, a wide array of other architectural ele-
ments are fabricated from cast stone for both interior and exterior use. Curving balustrades, corner quoins, pilasters, capitals, cornices and all manner  of  custom  mouldings are just some of the quality cast stone products available today.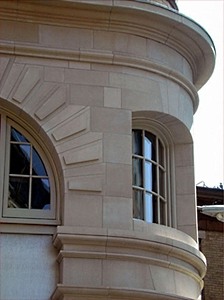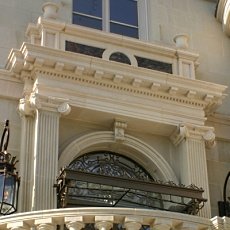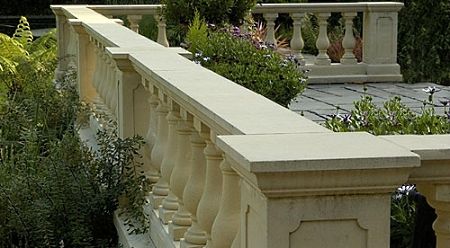 Custom cast stone fireplace mantles and surrounds can be created in both
traditional . . . . . . . and contemporary styles.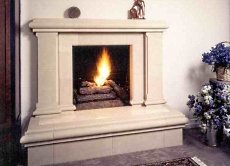 They can be simple . . . . . . . or elaborate . . .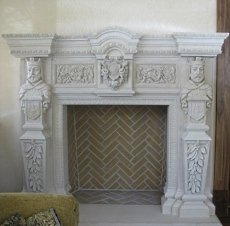 with . . . . . . . or without an overmantle . . .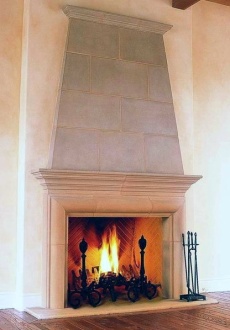 for both indoor rooms . . . . . . . and outdoor rooms.
The following photos depict a very small sampling of the many different styles of fireplace mantles and surrounds that can be made from cast stone.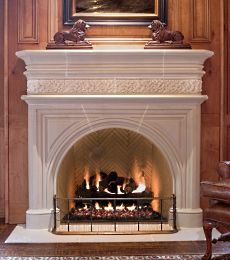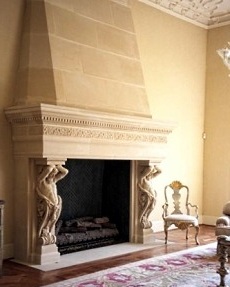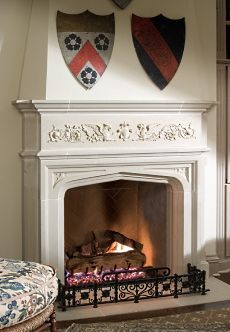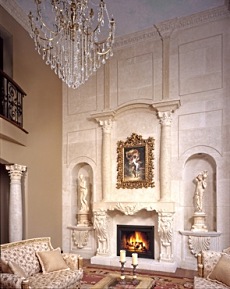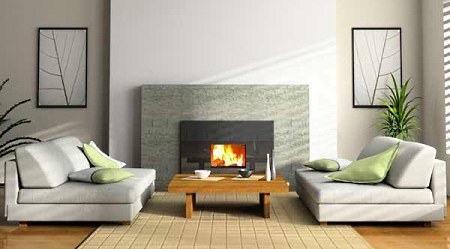 If  you're  looking for the best there is in a present day custom cast stone fireplace mantle, you need look no further than the highly skilled cast stone artisans and studios behind the incredible examples shown here.   For more information about any of these amazing artisans and their remarkable work, please contact us.
Please check back often or subscribe to our  RSS feed,  for  we  fre- quently add new images as we discover exceptional new talent to bring to you.  Also, if you know of a skilled designer or artisan that you believe should be featured here, please let us know.
Fireplace Mantle Stone - More Cast Stone Mantles & Surrounds

Fireplace Mantle Stone - Natural & Cast Custom & Semi-Custom Designs
Back to Custom Fireplace Designs
Back to Standout Fireplace Designs Home Page
Didn't find what you were looking for?
Use this search feature to find it.

LIKE THIS PAGE?