Manufactured Stone Fireplaces...
Fabulous Faux!
Manufactured stone fireplaces have come a long way in recent years.  Though man-made cast stone mantels with smooth finishes have been produced for centuries and perfected to the point where they are barely discernible from their finely finished natural stone counterparts, the more rugged, roughly textured stone fireplace surrounds have not been so lucky.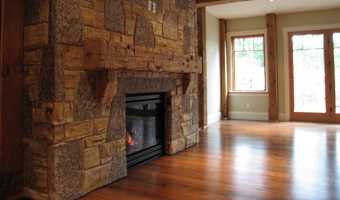 Fortunately,  manufacturers  of roughly tex-
tured stone  found a way to significantly im-
prove  their product since the 1970s,  when artificial stone looked every bit as fake as it truly was.    Today's man-made stone prod-
ucts  are  a  far cry from their predecessors. Many are so realistic in appearance that on-
ly  the  trained eye of a skilled stone mason can tell the difference!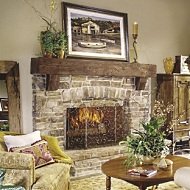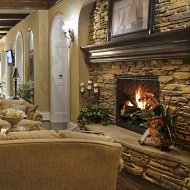 Manufactured stone is made by blending lightweight concrete with colored iron oxide pigments.   To give it a realistic look, the mixture is poured into molds made from natural stones and then vibrated to integrate surface col-
oration and texture. After the mix sets, the stone is removed from the mold and cured.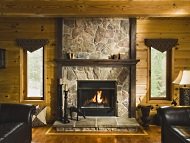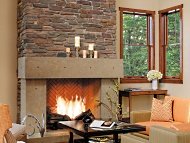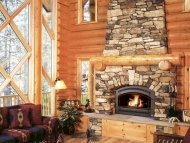 One of the major benefits of man-made stone is that it is significantly lower in cost than natural stone.   In addition, due to its much lighter weight, it doesn't require a foundation or footings for support.    The substantial cost savings,  in conjunction with its very realistic look, has made it a viable alternative  to  natural  stone  for fireplace surrounds.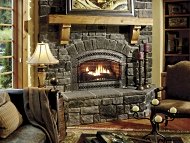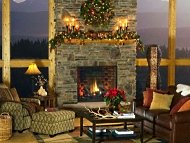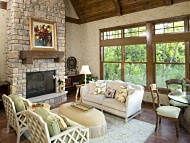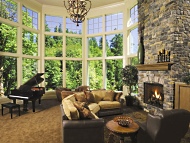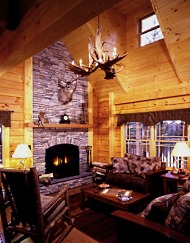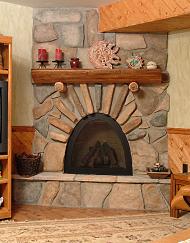 Please check back often or subscribe to our RSS feed,  as  we  fre- quently add new images of manufactured or cultured stone hearth designs.
More Manufactured Stone Fireplaces

Cultured Stone Fireplaces - How Do They Stack Up to Natural Stone?
Back to Stone Fireplace Designs
Back to Standout Fireplace Designs Home Page
Didn't find what you were looking for?
Use this search feature to find it.

LIKE THIS PAGE?