Stone Fireplace Photo Gallery...
An All Star Cast!
Our stone fireplace photo gallery of cast stone mantels and surrounds showcases some of the best designs and products available today.  We reviewed a wide range of cast stone products currently in the marketplace and carefully selected a sampling of well designed, high quality mantel- pieces that we'd be proud to have in our own homes!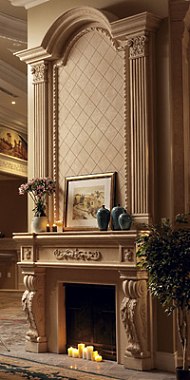 Cast stone has been used to make fireplace mantels for centuries and,  due to the rising cost of natural stone,  has never been more popular than it is today.  Advances in mixing formulas  and  production  techniques  have elevated the quality of many of today's cast stone products to the point where  it's  very difficult,  if not impossible,  to  discern them from their natural stone counterparts.
Lighter in weight and much  more  affordable than mantels made from natural stone,   the level  and  quality  of  detail  found  in  cast
stone  mantels  due  to  current  production
and finishing techniques has  made  them  a viable alternative in any setting. As a result, they are equally at home in multimillion dollar mansions,  as  well as more modestly scaled homes. 
Fireplace at right from Mantels Direct

The images in our cast stone photo gallery portray a wide range of styles and prices.  If you are interested in learning more about any of the mantels and surrounds below, or if you're looking for something not shown, please contact us and we will be happy to help you find your special mantelpiece!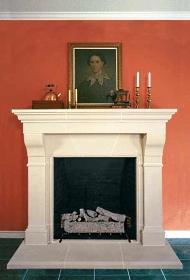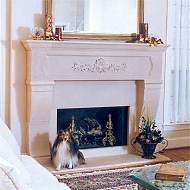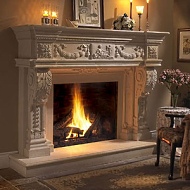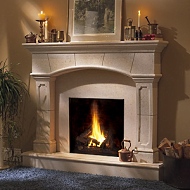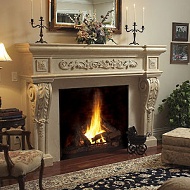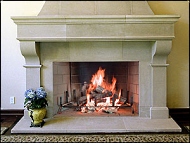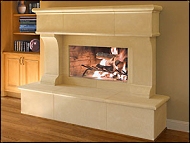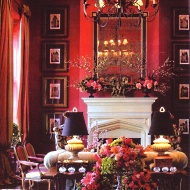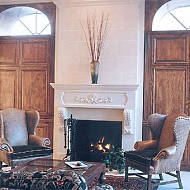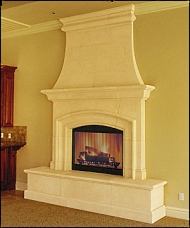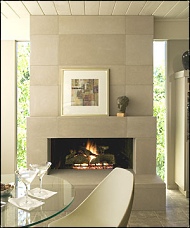 Please check back often or subscribe to our RSS feed, as we fre- quently add new photos of cast stone fireplaces.
Custom Cast Stone Fireplace Mantle Designs

Contemporary Stone Fireplace Photo Gallery
Back to Standout Fireplace Designs Home Page
Didn't find what you were looking for?
Use this search feature to find it.

LIKE THIS PAGE?