More Custom Stone
Faux Fireplaces!
Manufactured stone faux fireplaces are extremely popular today.     Often referred to as  cultured stone -- one of the major brands -- manufactured stone has come a long way from its humble beginnings in the 1960s . . . . .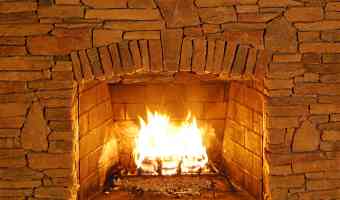 Realistic faux stone fireplace surround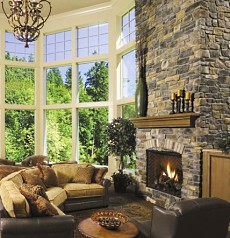 Significant advances in the develop-
ment of product mixtures and process-
ing techniques in recent years have resulted in some incredibly realistic looking alternatives to a natural stone fireplace surround. The close-up above, as well as the examples pic-
tured at right and below, show just how far manufactured stone has
come!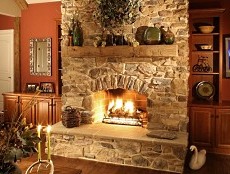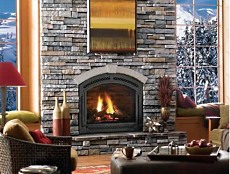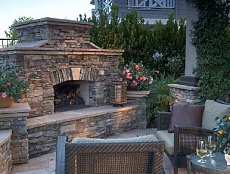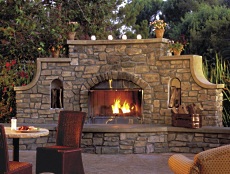 Faux Fireplaces Crafted from Concrete
Another remarkably versatile material employed to fabricate today's stone faux fireplaces is concrete,  which can be moulded or formed into virtually any size and shape and finished to duplicate the color and texture of nat-
ural stone.  Whether your taste is traditional or contemporary . . . or any-
thing in between . . . concrete is an excellent material for a very realistic looking stone hearth.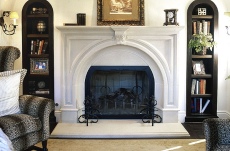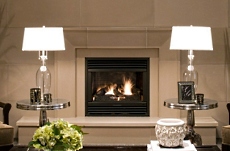 One of the best concrete blends currently being used is  glass fiber rein-
forced concrete, or GFRC.  Known for its light weight, high strength and durability, it can be moulded and finished to look like hand carved marble and limestone, as shown in the examples below.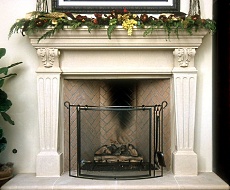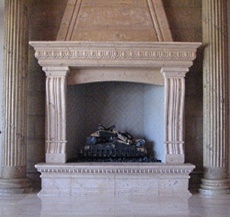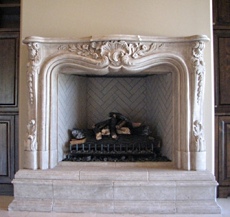 If you prefer more of a rustic or casual look, concrete can also be stamped and finished to look like split face granite . . . . . . . or cut fieldstone.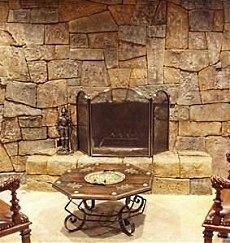 Regardless  of which material or finish you choose for your custom or semi-
custom  hearth,  you  will  find a wide range of quality products and skilled artisans to give you the look of natural stone at a fraction of the cost. Not only will you save on the cost of the fireplace, itself, but due to the lighter weight  of  faux  stone  products,  labor  costs  will  be  considerably lower because you won't need any additional footings or structural reinforcement to support your new hearth.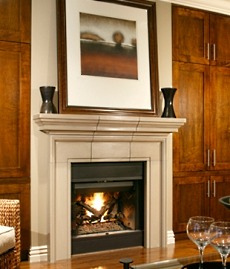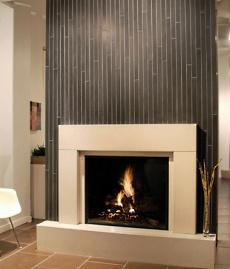 If you're looking for the best there is in a present day custom stone faux fireplace,  you need look no further than the quality products and highly skilled faux stone artisans behind the outstanding examples shown here. For more  information  about  any  of  these  amazing products and skilled artisans, please contact us.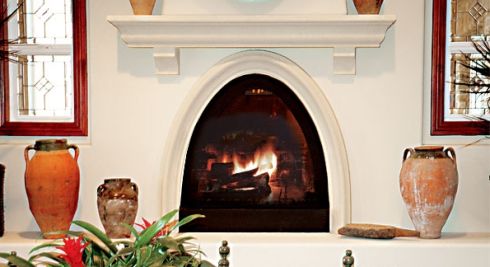 Please check back often or subscribe to our  RSS feed,  as  we  fre- quently add new images of faux stone fireplace designs to our site.  Also, if you know of a skilled designer or artisan whose work you believe should be featured here, please let us know.
YOU MAY ALSO LIKE:




More Custom Stone Faux Fireplaces





More Custom Designs With Concrete





More Custom Designs With Manufactured Stone




More Custom Designs With Cultured Stone
Back to Custom Fireplace Designs
Back to Standout Fireplace Designs Home Page
Didn't find what you were looking for?
Use this search feature to find it.

LIKE THIS PAGE?