Manufactured Stone Fireplaces
Manufactured stone fireplaces have come a  long way from their humble beginnings.    Though man-made  cast stone  mantels  with  smooth finishes have  been  produced for centuries and perfected to the point where they are virtually indistinguishable  from their finely finished natural stone counterparts, the more rugged, roughly textured stone fireplace surrounds have not enjoyed  such  good fortune.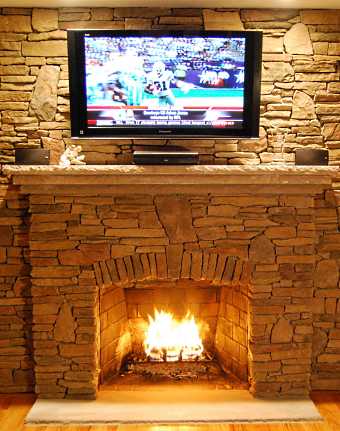 Fortunately, manufacturers of roughly textured stone found a way to sig-
nificantly   improve  their  product  since  the  1960s  and  1970s,   when  artificial  stone  looked every bit as fake as it truly was.     Today's  man-
made stone products have evolved considerably from  their  predecessors. Many are so realistic in appearance that only the trained eye of  a  highly skilled stone artisan can distinguish between it and the "real deal."
Manufactured stone is made by blending lightweight concrete with colored iron oxide pigments.    To give it a realistic look, the mixture is poured into molds  made  from  natural stones  and then vibrated to integrate surface coloration and texture.   After the mix sets, the stone is removed from the mold and cured.
One of the primary benefits of man-made stone is  that  it  is  considerably lower in cost than natural stone.     Also, due to its much lighter weight -- approximately two-thirds the weight of natural stone veneer and about one quarter the weight of full-block natural stone  --  it doesn't require a foun-
dation or footings for support.   The significant cost savings, along with its very  realistic  look,  has  made it a popular alternative to natural stone for fireplace surrounds.


Manufactured Stone Fireplaces -
Fabulous Faux!


The BIG PICTURE Of Cultured Stone Fireplace Options!




Cultured Stone Fireplaces -
How Do They Stack Up To Natural Stone?




MORE Custom Stone Faux Fireplaces!





Manufactured Stone Hearth Photo Gallery



Back to All Stone Hearth Categories
Back to Stone Fireplace Designs Overview
Back to Standout Fireplace Designs Home Page
Didn't find what you were looking for?
Use this search feature to find it.

LIKE THIS PAGE?