Fireplaces Mantles & Magnificence
Masterworks in Wood!
The wood fireplaces mantles featured here come from some of the finest architects, designers and artisans working in the United States today.  Designed and executed with meticulous attention to detail, they reflect Old World craftsmanship at its present-day best!
Library Fireplace Above by
Harrison Design Associates

Among  the  top  architectural design firms  in  the  U.S.  is   Atlanta-based Harrison Design Associates.   The firm specializes  in  classically-inspired  de-
signs. Meticulous attention to detail is  a hallmark of their work, as clearly evi-
denced  in  the  fireplaces mantles pic-
tured at left and below.
The  richly finished library surround that follows is also by Harrison Design Associates.   It features a pair of Tuscan columns supporting an entabla-
ture, or series of horizontal members capped by the mantel shelf. A finely paneled overmantel rises from the mantel shelf  to  the  coffered  ceiling. Beautifully veined dark marble is used for both the hearth and the firebox surround.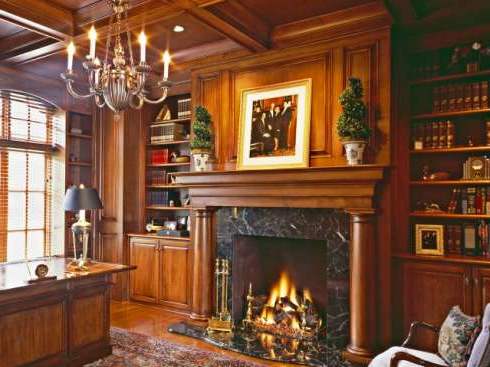 See More of the Extraordinary Work of Harrision Design Associates
More Wood Fireplaces Mantles
Hull Historical is an architectural millwork company that specializes in the design  and  creation  of  historically  accurate mouldings, paneled walls, fireplaces mantles, cabinetry, doors and windows.   Based in Fort Worth, Texas, the firm is nationally renowned for custom architectural elements crafted from wood.    The elegant,  meticulously detailed Georgian Style fireplace mantel and overmantel pictured below is a fine example of  the firm's outstanding work!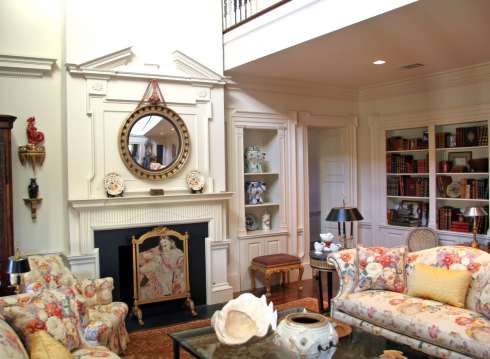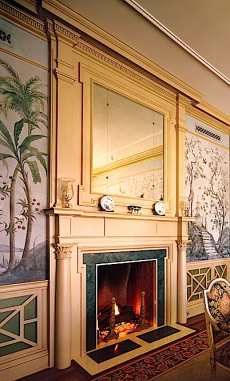 Pictured  at  left  and below are finely crafted fireplaces mantles  and  over-
mantles by Zepsa Industries. Based in Charlotte,  North  Carolina,  the  com-
pany specializes in architectural wood-
work,  paneling,  cabinetry,  furniture, nautical or marine interiors, and monu-
mental  stairs.     Founded   in   1981, Zepsa  has  been  serving  a veritable "who's who"  of  the country's leading architects, interior designers, building contractors, and mega yacht builders. Classically - inspired   and  beautifully crafted,   the  two  designs  featured
here  provide  a sampling of the firm's vast repertoire of finely detailed work.
The coastal town of Ipswich, Massachusetts,  is  home  to  another  out-
standing -- albeit smaller -- cabinet shop. Aptly named Ipswich Cabinetry has  a team of skilled artisans that work in the tradition of the finest cus-
tom cabinetmakers.   The finely crafted corner fireplace design with built-
ins, pictured below, features a series of raised panels, open shelving, and raised panel drawer fronts. An elegant crown moulding echos the detailing of the mantel shelf.
See Another Finely Crafted Fireplace by Ipswich Cabinetry!

The   richly   carved   and  finished fireplaces mantles  that  follow  are styled   after  Old  World  European designs.   The stunning hooded fire-
place  pictured  at  left is from Pine-
crest custom wood products, based
in Minneapolis, Minnesota.   Crafted
from mahogany, it is  among  a  col-
lection of approximately 300 designs inspired  by  a broad range of styles
and motifs from the 18th,  19th and 20th centuries. Since each design is custom made,  Pinecrest can create one  for  you that meets your exact specifications and needs.
See More of Pinecrest's Fireplace Mantle Designs



The striking inglenook fireplace design pictured below is by architect Scott Wynn.  Based in the San Francisco Bay area, Mr. Wynn's firm maintains an in-house workshop for the fabrication of furniture, fixtures and various de-
tails that are incorporated in his architectural designs.      The design that follows  is crafted from Honduras mahogany and features meticulous hand-
carved detailing on the "legs" of the fireplace, as well as on the richly pan-
eled overmantle.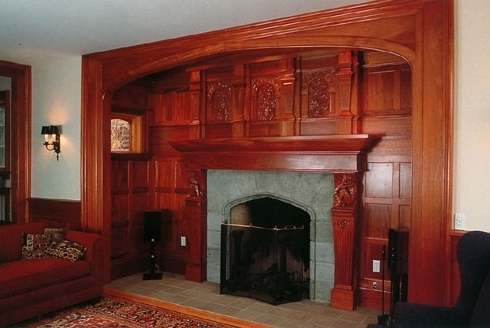 See More Inglenook Fireplace Designs

Please check back often or subscribe to our  RSS feed,  as  we  fre- quently add new images of wood fireplace mantels to our site.
YOU MAY ALSO LIKE:





Wood Fireplaces Pictures -
Lofty Ideas!





Fireplace Surround Designs -
Period Perfection!





The Wood Fireplace Surround -
Understated To Magnificent!
Back to Wood Fireplace Mantels
Back to Standout Fireplace Designs Home Page
Didn't find what you were looking for?
Use this search feature to find it.
LIKE THIS PAGE?