More Fireplace Tiles
In Arts & Crafts Styles!
Hand-crafted fireplace tiles are back, thanks to the ever-growing revival of the Arts and Crafts Movement.  The strength of the designs and the use of natural  materials gives them enormous appeal and staying power.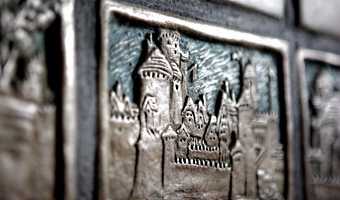 When  talking  about the present day revival of Arts and Crafts tile in Amer-
ica,  Professor Richard D. Mohr of the University of Illinois at Urbana sums it up best:  "Mention tiles and most peo-
ple    envision   those   characterless bathroom  coverings  we  all  grew up with and continue to see too much of now.
During   the   decades  flanking  1900, though, tiles of a different sort grout-
ed  their way into many dimensions of American  life,  enlivening  both public and  private spaces with a sumptuous
array of color and texture. Companies such as Batchelder Tiles of Los Angel-
es,  Rookwood  Pottery  of  Cincinnati, American Encaustic Tiling of Zanesville (Ohio),  and Grueby Faience of Boston took the tilemaking techniques of 18th-century Spain and fused them with the design ideals of Britain's 19th-century Arts & Crafts Move- ment to produce a distinctively American look in useful clay — the art tile. Intended  to  be  functional  as  well  as attractive,  art tiles were used architecturally in ways  that  have  long been underappreciated, but can still amaze and delight us today."
Professor  Mohr  goes  on  to  state: "Homeowners  placed art tiles at the visual center of family life by setting them in hearths and mantels.   Their matte  glazes and peaceful,  if often sentimental,  subjects  provided  the perfect  backdrop  for  rest, reading, contemplation, and conversation. Be-
yond  the  inglenook,   art-tiled  fire-
places  could  also be found in dining rooms, bedrooms, libraries, and home offices.  Admittedly, an art-tiled fire-
place  was  an objet de luxe and only the wealthiest could afford one.  The least  expensive  fireplace   surround with  mantel  shown  in   Rookwood's
1909 tile catalog — four simple molded decorative tiles set in a field of plain tiles — cost $50 at a  time  when  the  average American worker earned $5 a  week.    A  fancy  Rookwood fireplace with an overall design of lilies was equal to a year's salary,  even though it was made entirely of molded stock items,  and  Rookwood's  mark-up on tiles was only half of what it made on vases."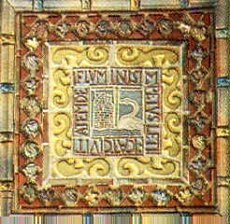 One of the few surviving studios from the original Arts and Crafts era is the Moravian Pottery and Tile Works    in Doylestown, Pennsylvania.  The brain-
child of Henry Chapman Mercer (1856-
1930), a leader of the Arts and Crafts Movement   in  America  in  the  early
20th  century,    Moravian   Pottery's hand-crafted  fireplace  tiles   are   a testament to its founder's vivid imag-
ination and creative genius.   Though the  Pottery and  Tile  Works  is  now
a  nonprofit working  history  museum housed  in  three historic buildings -- including Mercer's picturesque castle-
like home,  Fonthill  (shown  below in bottom photo)  --  it continues to re-
produce  the original designs in a manner similar to that originally developed by him.
Uniquely  distinctive  among  Arts & Crafts designs of the period, Moravian Tiles are unlike any others made before or since. Both glazed and unglazed, the colorful fireplace tiles are filled with images of equally colorful storybook characters like Rip Van Winkle . . . . .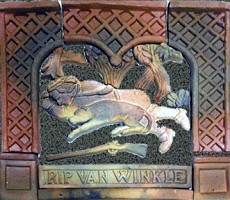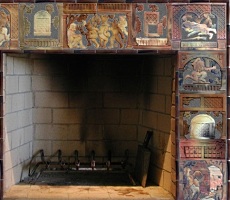 or  characters  from  popular  American  culture of the 19th and early 20th centuries, such as the Arkansas Traveller . . . . .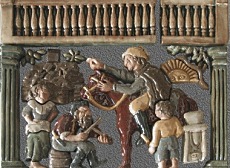 or historical figures and events such as the landing of Christopher Colum-
bus in America . . . . .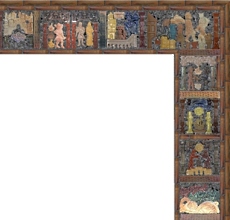 even depictions of various seasonal activities like picking grapes in the fall.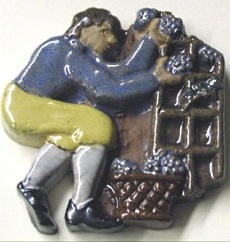 The  fireplace tiles  of  Henry  Mercer  were mean't to tell a story and their varied  themes  reflected  his  broad interests and experiences in the fields of archaeology, literature, history, and folklore.   Sometimes they were ad-
aptations  of tile designs of the past.    The result was a picturesque prod-
uct in which each Moravian Tile installation was truly unique.
Fonthill, home of Henry Mercer
Present Day Arts & Crafts Fireplace Tiles
The  many  tile  styles  and  tile  making techniques of the Arts and Crafts Movement  have inspired countless present day artisans and studios to re-
create the rich legacy of designs, textures and colors from that period.  In addition,  they are creating a host of new designs influenced by the styles and  motifs  of  the Arts and Crafts Movement.    The examples that follow provide  a sampling of the many different looks currently available in Arts & Crafts-inspired fireplace tiles.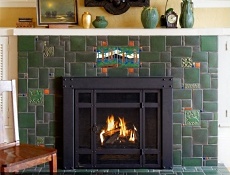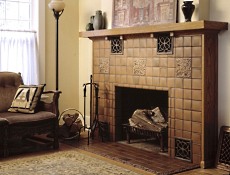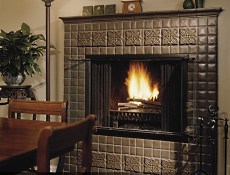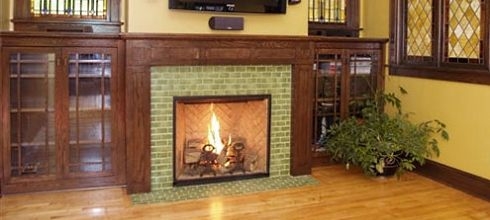 The hand-crafted detailing and ageless designs and motifs of Arts and Crafts reproduction and adaptive fireplace tiles make them a  "natural" for surrounds and hearths.     In addition,  quoting Professor Mohr once again, "More than the ever-growing revival of the Arts & Crafts Movement, post- modernism's  embrace of color, texture, decoration, historical referencing, and . . . well . . . fun have made this design philosophy the perfect vehicle for the  return  of tile and decorative terra cotta to architecture."
Please check back often or subscribe to our RSS feed,  as  we  fre- quently add new images of tiled fireplaces to our site.
YOU MAY ALSO LIKE:



More Arts & Crafts Fireplace Tiles




The Craftsman Fireplace - A Standout Fire Space!




More Standout Craftsman Fireplaces!




The Arts and Crafts Fireplace - A Finely Crafted Fire Space!





More Finely Crafted Arts and Crafts Fireplaces!




Contemporary Craftsman Fireplace Hearths - New Twist On An Old Theme!


Back to Fireplace Tile Designs
Back to Standout Fireplace Designs Home Page
Didn't find what you were looking for?
Use this search feature to find it.

LIKE THIS PAGE?