Extraordinary Christmas Fireplace
Designs...Chic & Unique!
The Christmas fireplace designs featured here showcase the talent, cre-
ativity and skill of one of America's foremost holiday decorators. If you're looking for the "WOW" factor in your Christmas decor, look no further than the individual behind the extraordinary holiday hearths pictured here!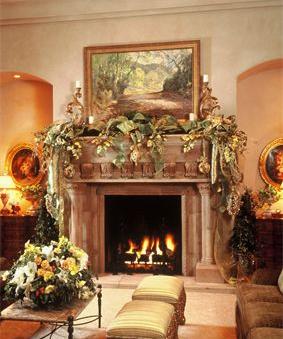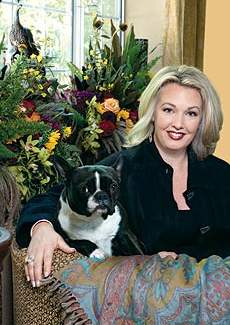 Leanne Michael  (left)  of  Leanne  Mi-
chael Interiors,  based  in  San  Diego, California, IS that individual. Her client list is a veritable  "Who's Who?"  of  A-
merican  businessmen  and  celebrities including Bill Gates, Tony Robbins, Lar-
ry King, Sean Penn and Janet Jackson. It's  little wonder that adjectives such as "Opulent," "Amazing," and "Over the Top"  are  frequently  used to describe her  incredible custom holiday decorat-
ing  --  several  examples of which are included here!
The handsome stone fireplace shown in the three images that follow  is  in the Romanesque Revival or,  more  specifically,  Richardsonian Romanesque style.    Located in the home's formal dining room, it has a very robust and masculine look.  However, Leanne's holiday decorating schemes -- pictured in 2007 (left)  and  2008 (right and bottom)  --  are not only beautiful, but soften the look and give it a bit of a feminine touch.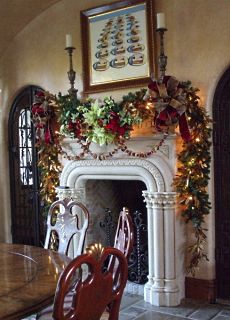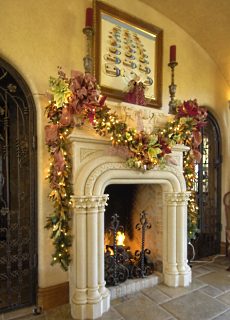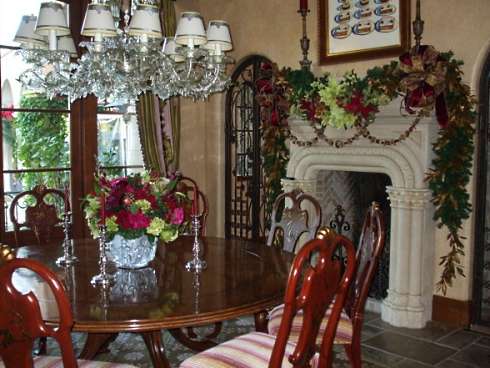 The Christmas fireplace shown in the three images that follow is in the for-
mal living room of the same home pictured above.    It is,  without a doubt, one of my personal favorites. A beautiful Classically inspired or Neoclassical carved stone mantel design, it is made  even  more  beautiful  by  Leanne's stunning holiday decor! A lush and colorful floral garland is elegantly draped over the mantel. Hues of raspberry, gold and vivid pale green are combined with sugared fruits and candies to deliver a festive splash of color!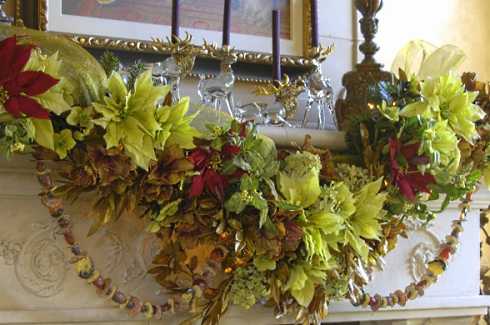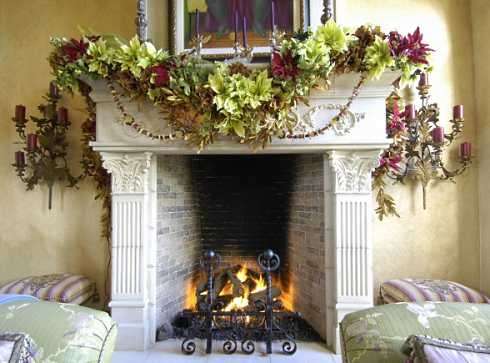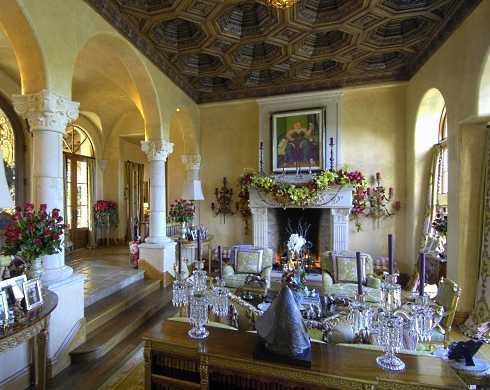 More Festive Christmas Fireplace Designs
The Italian-inspired Christmas fireplace designs that follow adorn the home of another one of Leanne Michael's lucky clients. According to Leanne, the home  is  "full of silk garden roses,  hydrangeas,  magnolias,  birds and real quail egg nests...flying angels, jewels and brocade fabric ribbons...."
The elaborately decorated stone mantel and overmantel mirror pictured be-
low, left, is in the formal living room.   A festive holiday hearth also adorns the Italian Country kitchen, pictured below, right.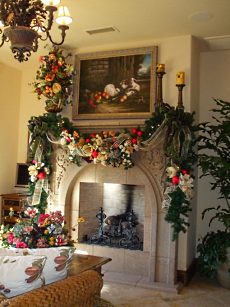 The colorful holiday fireplaces that follow were created  for  two  different clients.    Pictured below, left, is a stone hearth that features an "Antique Toy Story" theme Leanne designed for a client who  wanted  to  create  a special room for the grandchildren.   View and learn more about this Christ-
mas fireplace by clicking here and scrolling to the bottom of the page.
The Spanish Country design  pictured  below,  right,  features  an  arched stone fireplace surround with a hand carved wood mantel shelf. Anchoring each  end of the mantel shelf are tall topiaries in classic metal urns which, in turn, anchor a lavish holiday garland draped over the mantelpiece.
See More Hand Carved Wood Fireplace Mantel Shelves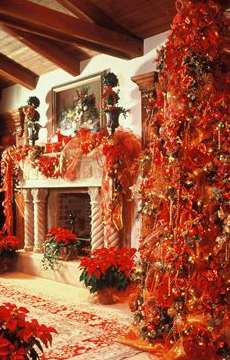 Nothing says "Christmas" like the color, red . . . and nobody "says" -- or  does -- it better than Leanne Michael!  The Christmas tree and fireplace decor pic-
tured at right is simply dazzling!

See More Christmas Tree And Fireplace
Designs By Leanne Michael Interiors!

And  finally,  the holiday fireplace pictured below is nothing short of a vis-
ually intoxicating feast that screams "LOOK AT ME!"     Taking her cue from the bold and colorful modern artwork above the mantel, Leanne created an equally bold and colorful holiday decorating scheme for  this  striking  stone surround!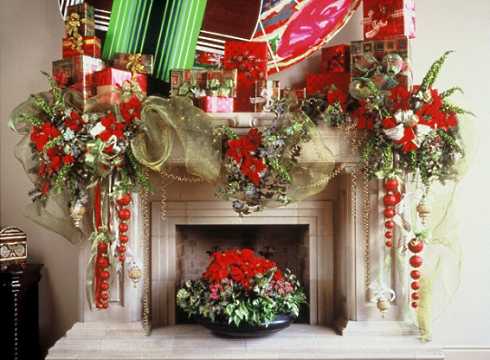 Please check back often or subscribe to our RSS feed,  as we fre- quently add new holiday fireplace designs to our site.
YOU MAY ALSO LIKE:





More Extraordinary Christmas Hearth
Designs...Cozy And Colorful!





Christmas Fireplace Pictures -
Spruce Up Your Stone Surround!





Christmas Decorating Fireplace
Ideas...NATURALLY!

Back to Fireplace Mantel Designs
Back to Standout Fireplace Designs Home Page
Didn't find what you were looking for?
Use this search feature to find it.
LIKE THIS PAGE?