A Legendary Library Fireplace
that Speaks Volumes!
The library fireplace featured here is -- in a word -- extraordinary.  Among the most recognizable in America, it has inspired a host of home library and fireplace designs since it was built in the late 19th century!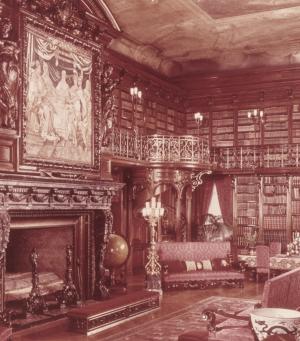 Biltmore House is the crown jewel of a gilded age country estate in the mountains of North Carolina.  Erected between 1889 and 1895 for George Washington Vanderbilt, heir to a shipping and railroad fortune, its impres- sive 780 foot facade (below) evokes the look of a Renaissance chateau in the Loire Valley of central France.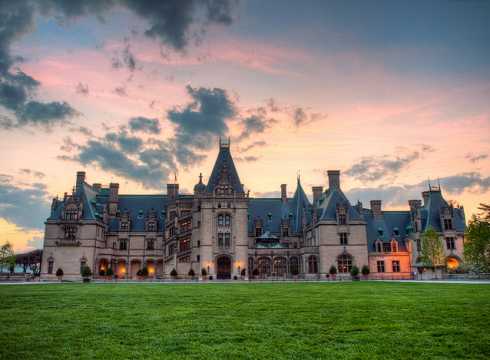 Architect: Richard Morris Hunt (1827-1895)
Photo Credit (above): Two Ring Studios
Inside its 250 rooms are 65 fireplaces -- one of which is the awe-inspiring design pictured below.  The focal point of, arguably, the grandest home library in America, its monumentality is dwarfed only by its incredible warmth. 

A voracious reader, Vanderbilt amassed a collection of 23,000 volumes -- nearly half of which still remain in his magnificent 40 x 60 foot library.  We can only imagine the joy and serenity he experienced as he sat in a com- fortable chair next to the fire, completely immersed in one of his treasured books.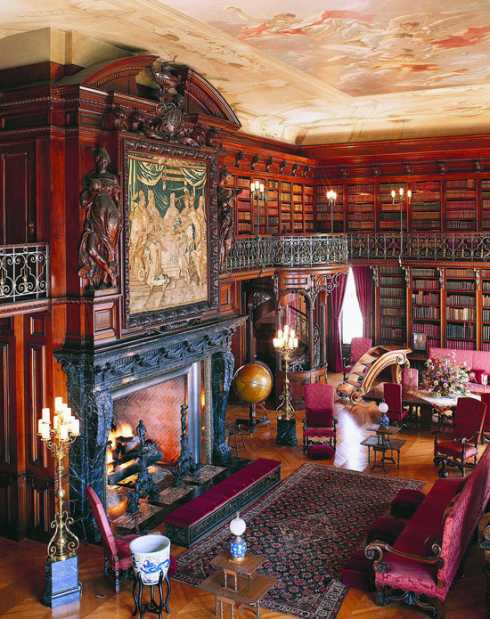 Ornate andirons stand like ceremonial sentries guarding the logs within his massive "walk-in" library fireplace.  Fire bricks arranged in an elegant her- ringbone pattern cast a glow from the fire.   Framing the firebox opening is a superbly carved black marble mantel with beautiful veining.

An elaborate overmantel carved from French walnut by sculptor Karl Bitter (1867-1915) rises to the two story ceiling.  Large allegorical figures flank a framed tapestry.  Centered on the broken pediment above, a carved oil lamp symbolizes knowledge and enlightenment.


Overhead Observations

Overlooking the lofty library fireplace is a striking ceiling painting by Gio- vanni Antonio Pellegrini (1675-1741).  Previously installed in the Palazzo Pisani Moretta, a centuries' old palace in Venice, The Chariots of Aurora was subsequently acquired by Mr. Vanderbilt when its owners fell upon hard economic times.  A panoramic view of the library, as well as a closer image of part of the ceiling, hint at its magnificence in the photos below.

Past and Present

A vintage postcard depicts a view of Biltmore's library from an earlier era . . . . .

. . . while a recent photo shows the library fireplace at its "Holiday Best!"

See More Holiday Fireplace Photos from Biltmore House

Enjoy More Beauty of Biltmore by Visiting its Website

A Lasting Legacy

Thanks to the commitment and tireless preservation efforts of George Vanderbilt's descendants, Biltmore House continues to inspire us well over a century later.    Its library, alone, set the standard for "ultimate" home libraries in America.  Not surprisingly, it has influenced the design of some rather grand examples built for bibliophiles in recent years.    The  monu- mental fireplace pictured below anchors the library of a sprawling residence in Dallas, Texas.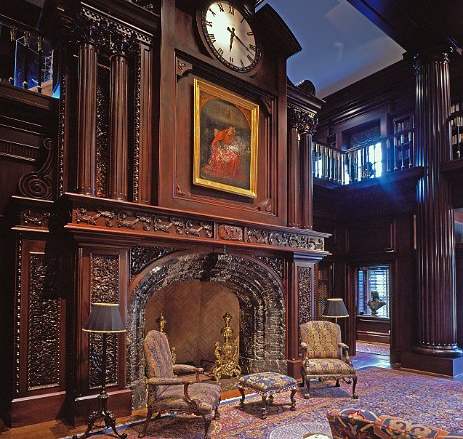 See MORE Extraordinary Library Fireplace Designs!

Please check back often or subscribe to our  RSS feed,  as  we  fre- quently add new images of library fireplace designs to our site.

YOU MAY ALSO LIKE:

Gilded Age Fireplace Designs -
Monumental, Majestic...and Rustic?




Fireplaces Mantles & Magnificence -
Masterworks in Wood!



Fireplace Surround Designs -
Period Perfection!




Antique Fireplace Mantels -
Gilded Age Glory!




Fireplaces Mantles & Mansions -
A Return to Classic Grandeur!



Regal Fireplace Mantel Designs -
Fit for a King...OR a Queen!



Back to Fireplace Design Overview
Back to Standout Fireplace Designs Home Page


Didn't find what you were looking for?
Use this search feature to find it.
LIKE THIS PAGE?