Maximize Your Space with
a Corner Gas Fireplace!
A corner gas fireplace is a great way to maximize the use of limited interior space.   Not only can it be sized to fit into rather cramped quarters, but it affords a great deal of flexibility in furniture arrangement . . . . . . . AND a great view of the fire from virtually anywhere in the room!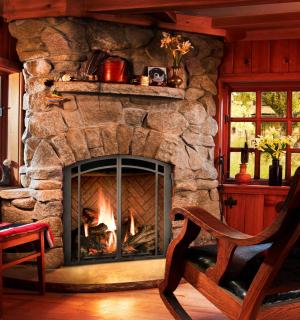 Mendota FV41 gas hearth pictured above
If space is at a premium, the two vented gas models that follow may provide a solution. Specifically created for tight spaces, the portrait style design pictured below, left, is from Lopi. Nestled in a corner cabinet from J.C. Huffman Cabinetry, it takes up a minimal amount of interior room. This charming design may be placed at floor level or elevated (as shown here), making it ideal for small intimate settings such as bedrooms, baths, dens, and kitchens.
Starkly contrasting in style is the sleek contemporary design pictured below, right, from Dutch manufacturer Drugasar (DRU). Distinctive, versatile and energy-efficient, DRU's "Paco" corner fire offers an expansive multi-sided view while providing a minimalist look in a minimal amount of space.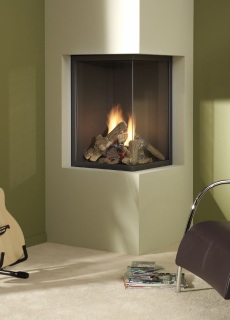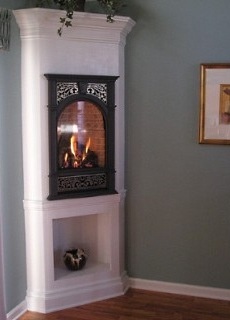 Above Left: Lopi 21 TRV GreenSmart Fireplace with "Looking Glass" De-
  signer Face and optional nickel-plated Arabesque Grills
Above Right: Drugasar (DRU) "Paco" vented corner gas hearth
If you have a little more space to spare, a wall can be built at a 45 degree angle across the corner to accommodate a Valor Ventana fireplace.  Designed to produce radiant heat and efficiently reduce heat loss  --  and energy  costs  --  the  versatile Ventana is "comfortable" in a variety of settings, as shown below. With no visible vents or louvers, it simulates the look of a real masonry fireplace.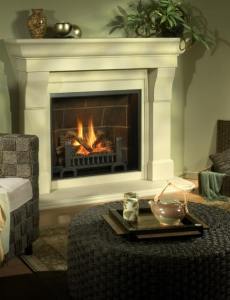 Above Left: Valor Ventana gas hearth with "Corvallis" mantel
Above Right: Valor Ventana gas hearth with slate wall surround
Available in a wide range of both traditional and contemporary styles, the corner hearth is offered in an array of regional variations, as well.     For example, the distinctive beehive-shaped kiva fireplace -- commonly found throughout  the southwestern United States -- is typically positioned in a corner of the room.   Echoing the ceremonial chambers of the region's ancient Native Americans, kivas are smooth and gently rounded, as shown in the following two examples from Southwest Kiva.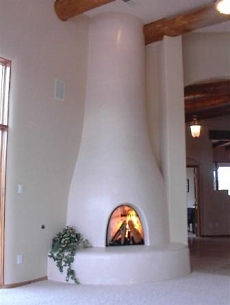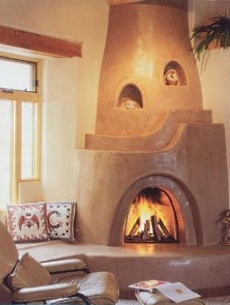 See More Kiva Fireplace Designs
Corner Gas Fireplace Materials
As with other types of  fuel-burning  fireplaces,  a corner gas hearth or surround can be crafted from a wide variety of materials including . . . . .
brick and stone . . .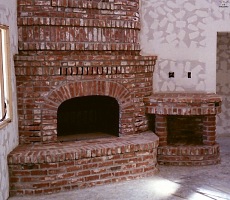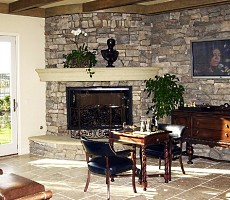 wood and concrete . . .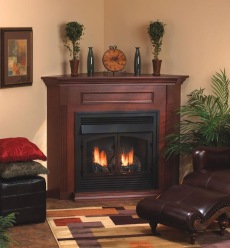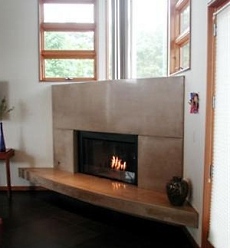 and both painted and stainless steel.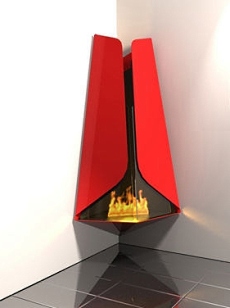 Formal, Semiformal . . . or Laid-back & Casual?
A corner fireplace surround can be created in any style for nearly every setting.  Note how the traditionally-styled mantel shelf, pictured below, helps to tie the room together.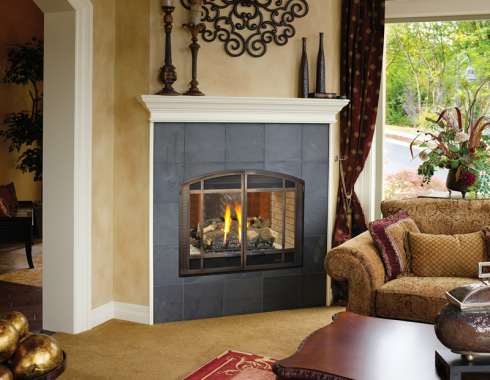 Above: Fireplace Xtrordinair 864 ST See-Thru gas hearth
With its ledgestone surround, the design that follows has a more casual look and feel. It also features a raised hearth and stained wood mantel shelf.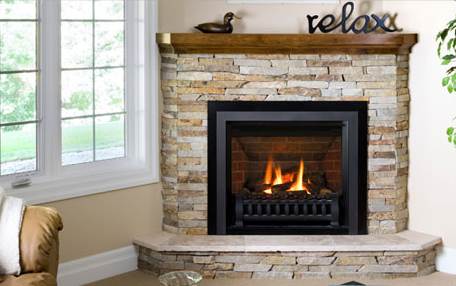 Above: Valor Horizon gas hearth with Clearview Front
Regardless of the style of your room, you'll find a host of corner gas fireplace options from which to choose. A corner hearth that not only complements your decor, but offers a viable solution for rooms that are difficult to arrange or that have a limited amount of "usable" space.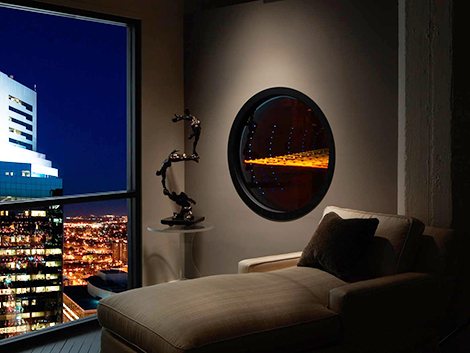 Cutting Edge Design (above): "Solaris" by Heat n Glo
See This and More Fireplace Designs from Heat n Glo

Please check back often or subscribe to our RSS feed,  as  we  frequently add new images of corner hearth designs to our site.
YOU MAY ALSO LIKE:



MORE Corner Gas Fireplaces -
Savers of Interior Spaces!




Contemporary Corner Gas
Fireplace Designs!




The Kiva Fireplace -
Steppin' Up & Out...Southwest Style!




Bricks & Stones
Corner Hearth Designs!




Standout Stone Corner
Fireplace Design Guide!



Return to Corner Fireplace Designs
Return to Standout Fireplace Designs Home Page
Didn't find what you were looking for?
Use this search feature to find it.
LIKE THIS PAGE?