Stone Corner Fireplaces...
Cornerstones of a Room!
Stone corner fireplaces are truly the cornerstones of a room. Whether the stones are round or flat,  smooth or coarse,  or a combination of varying sizes, shapes and textures . . . a stone corner hearth has a commanding -- and cozy -- presence!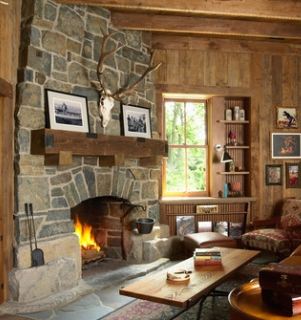 Above: Murphy & Company Design
Pictured below is the living room of "Brookside," a romantic country cottage overlooking Lake Michigan. Designed by SALA Architects, with offices in Stillwater and Minneapolis, Minnesota, this charming getaway retreat is anchored by a rugged stone hearth. Rising from floor to ceiling, it features a striking arrangement of natural boulders and rounded stones in a variety of sizes. A massive stone lintel carries much of the weight overhead. It is supported by a large stone slab to the right of the firebox opening and a series of stacked stones on the left which, in turn, rest on a raised stone hearth -- also supported by boulders beneath it.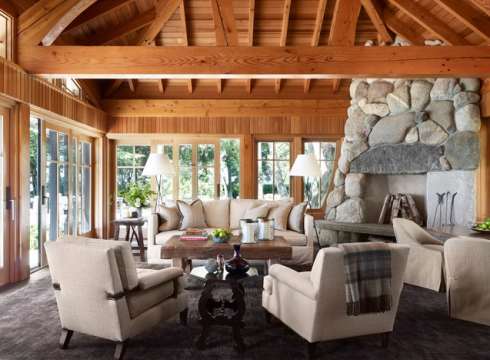 Photo Credit (above): Werner Straube
A definite attention grabber, this striking stone pile extends to an adjoining outdoor patio.   As shown below, the stonework wraps around the outside corner of the building to include a second firebox and chimney flue!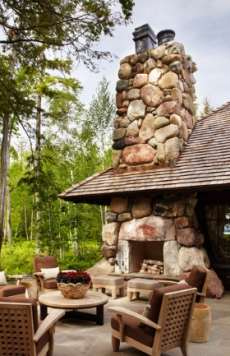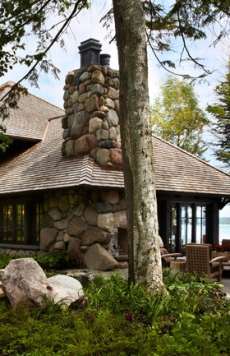 Photo Credits (above left & right): Werner Straube
See More Stone Outdoor Fireplaces
The corner fireplace that follows was designed by 2fORM Architecture, based in Eugene, Oregon.     It features a surround of cut stone veneer arranged in a random ashlar pattern. The stonework extends from the left side of the raised hearth to include a storage area for firewood. A built-in media center next to the fireplace helps optimize the room's spatial ar-
rangement.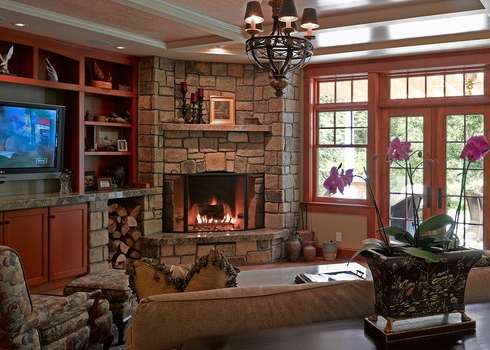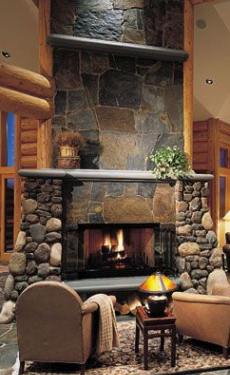 Pictured at left and below is a unique corner fireplace by Rocky Mountain Log Homes,  based in Hamilton,  Montana. The soaring multi-story design employs a variety of contrasting stone types, shapes, sizes, colors and textures for added visual interest.    Hues of blue, gray, tan and brown infuse flat slabs of slate that extend from the firebox surround to the ceiling.  Note how it's coloration  and  "flagstone  pattern" echos that of the paved slate floor.
Flanking the firebox surround are stone "piers" crafted from naturally rounded stones which project beyond the slate facing material. Flared outward at their bases, the stone "piers" are capped by a smoothly finished mantel shelf.     A raised hearthstone, similar in style and appearance,  provides a handy space for storing firewood directly beneath it.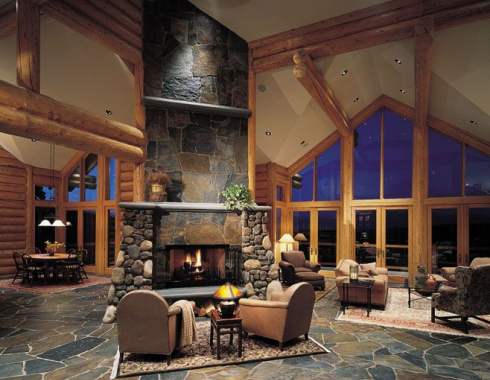 See More Monumental Stone Fireplace Images
More Stone Corner Fireplaces
Limitless Design Options
The wide variety of stone types, shapes, sizes, textures and colors offers a virtually unlimited number of design options and opportunities -- whether hand stacked, hand cast, or hand carved.
From ruggedly rustic and comfortably casual . . . . .
Above Left: RMT Architects, Avon, Colorado
Above Right: Bruce Palmer Coastal Design, Rehoboth Beach, DE
to finely finished formal/semiformal with traditional styling . . . . .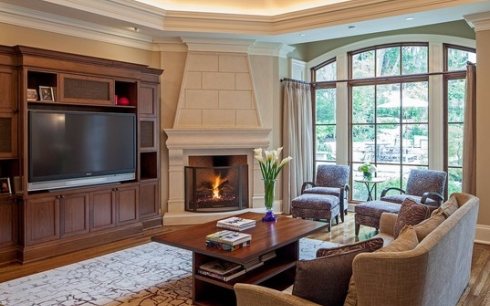 Design above by Makow Architects, Toronto, Ontario, Canada
Photo Credit: Peter A. Sellar, Toronto, Ontario, Canada
to sleek & chic contemporary surrounds of polished marble . . . . .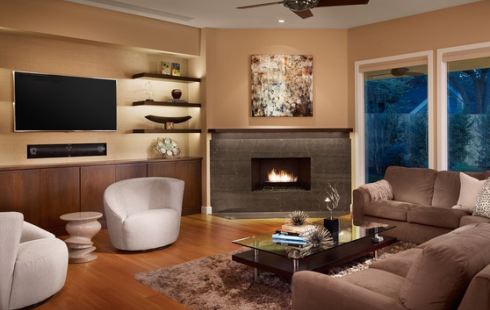 Design above by Laura Burton Interiors, Austin, Texas
. . . a stone corner hearth provides a rock solid anchor for your room, as well as a stunning focal point!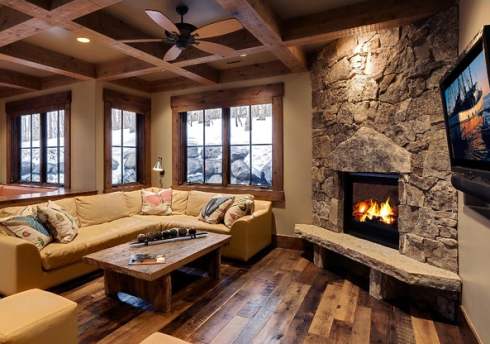 Design above by Jaffa Group Design Build, Park City, Utah
Please check back often or subscribe to our RSS feed,  as  we  fre- quently add new images of stone corner hearths to our site.
YOU MAY ALSO LIKE:



Stone Corner Hearth Designs -
Vastly Versatile!



Corner Hearth Design Ideas -
ROCK SOLID!




Corner Stone Fireplace Designs -
Cornering the Market!




Corner Hearth Pics -
Stone Style!



The Country Stone Corner Hearth -
Cozy, Casual & COLOSSAL!




Back to Corner Fireplace Designs
Back to Standout Fireplace Designs Home Page
Didn't find what you were looking for?
Use this search feature to find it.
LIKE THIS PAGE?