Antique Fireplace Mantels...
Old Flames Never Die!
Antique fireplace mantels and surrounds are extremely popular today and, undoubtedly, will remain so for the foreseeable future.   Given today's fast paced society and the current economic climate, many of
us long for an earlier, gentler time . . . . . . .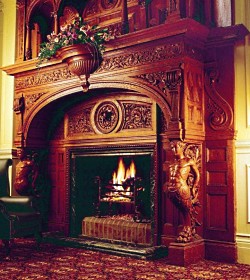 A time, at least in our minds, when life was slower paced and people stopped to smell the roses. A time when  people took time to truly get to know one another and to enjoy each other's company. A time when people were only too eager to help one another in times of need.
Though current technology has not yet advanced to the point where we can travel back in time,  we  CAN connect with the past by surround- ing ourselves with objects from an earlier era.   Antique objects in a variety  of  forms that were used to enhance the lives  --  in both large and  small  ways  --  of those who
went before us.
The antique fireplace is just one of many objects that enhanced the lives of previous generations. However, at least in the early years, it did so in a very big way . . . it heated the homes of our ancestors to keep them warm and cooked the food they served their families.
Old flames never die . . .
As technology advanced and the fireplace was no longer necessary for preparing food and heating homes, it nevertheless remained. Though more decorative than functional,  it continued to provide an inviting retreat where people gathered around with their family and friends to celebrate special moments, to enjoy each other's companionship . . . or simply to relax.
For the romantics among us, the following antique surround photos are designed to elicit emotional responses and evoke romantic images of the past. Both European made and American made, the mantels and surrounds pictured below are skillfully crafted from a variety of materials including exotic woods, beautifully colored and veined stones, and exquisitely forged and cast metals. We invite you to browse the images and lose yourself momentarily in the idealized reality of an earlier, gentler time.
A Sampling of Antique Fireplace Mantels
Please check back often or subscribe to our RSS feed,  as we fre- quently add antique mantels to our site.
YOU MAY ALSO LIKE:
More Antique Mantels & Surrounds
Back to Antique Fireplace Mantels
Back to Standout Fireplace Designs Home Page
Didn't find what you were looking for?
Use this search feature to find it.

LIKE THIS PAGE?