The Antique Fireplace Screen...
Truly One Of A Kind!
If you're looking for an antique fireplace screen that is truly unique, these are -- most definitely -- hard to beat!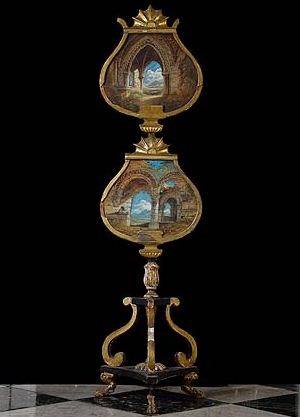 For example, the 19th century English fire screen pictured above is highly unusual.  From Westland London, it features two scallop shaped guards with pastel paintings of romantic ruins.   Supporting the guards is an elegantly scrolled tripod base with claw feet.
| | |
| --- | --- |
| | Pictured at left is another highly unusual design. An English William IV mahogany firescreen dating to 1810, it features a fluted frame and stretcher with sliding panels that both rise and extend laterally. |
The elaborate 19th century Dutch fireplace screen that follows is in the Baroque manner. Made of embossed brass, it features a large sunflower and leaves rising from a base flanked by panthers.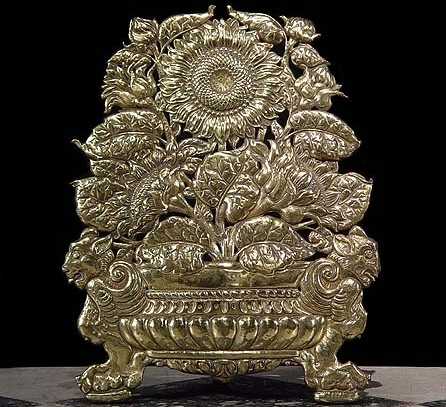 Cleaner lines and a smoother tex- ture and finish distinguish the very unusual Art Nouveau firescreen pictured at right from the Dutch firescreen  above.    Classically inspired, the urn-shaped design is made of burnished steel and dates
to 1890.







Pictured below is a later Art Nouveau English fireplace screen from 1920. It features a semi-oval center of repousse copper in a wrought iron frame and stand.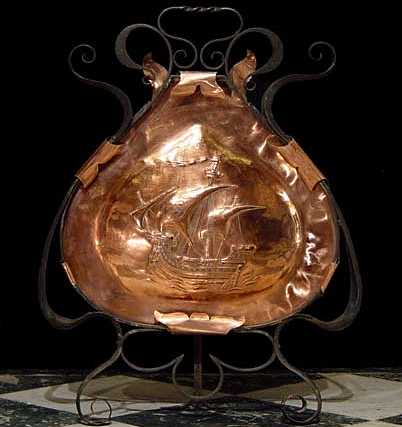 The English Arts and Crafts antique fireplace screens that  follow date from the late 19th century to 1900. Pictured at right is a burnished brass fire screen that is embossed with  a Firebird or peacock, flanked by a pair of opal colored insets.

Pictured below is a hammered burnished steel surround with an embossed brass circular panel in the center. Fitted with brass studs, the steel  surround  is  attached  to wrought iron supports on either end.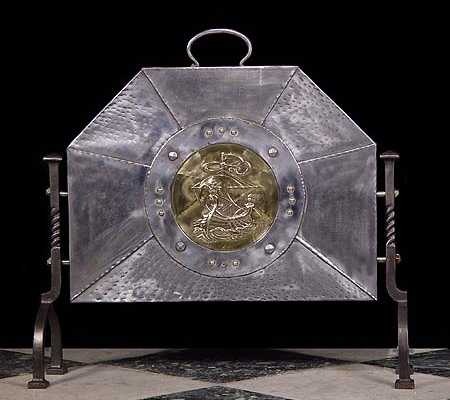 Though very different in appearance, the two designs that follow are also in the Arts and Crafts manner.  Pic- tured at right is a brass firescreen decorated with a galleon.   Set in a wrought iron frame and stand, it dates to about 1920.




Pictured below is a beautifully embossed leather firescreen depict- ing mythical dragons among foliage and thistles. A richly finished walnut frame and stand surrounds and supports it.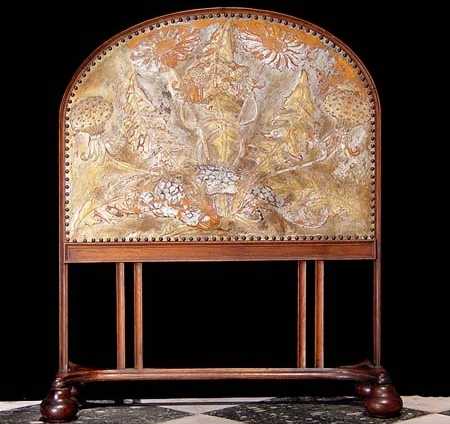 All of the antique fireplace screens pictured above are currently available from Westland London, based in London, England. To see more of their fire screens, please click here.
The firm also sells extraordinary antique fireplace mantels. Please click here to view a sampling of their incredible inventory!
More Antique Fireplace Screens
The early 20th century fireplace screen that follows is available  from another British firm, Thornhill Galleries, also based in London. Made of cast iron, it features a symmetrical geometric pattern of circular and oval rings, with a fine mesh behind it to contain flying embers.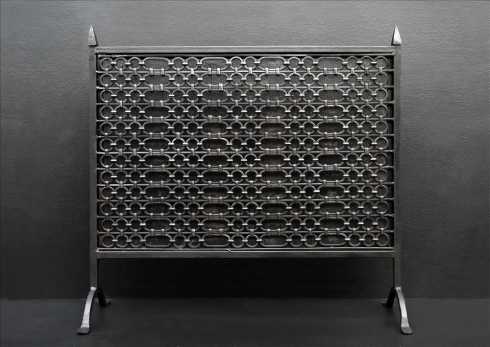 | | |
| --- | --- |
| And finally, moving into the early decades of the 20th century, the two fire screens that follow are Art Deco in style -- an eclectic artistic and design style that began in Paris in the 1920s and flourished inter- nationally throughout the 1930s. Pictured at right is a small mica fire screen,  while the large design pictured below is made of brass. | |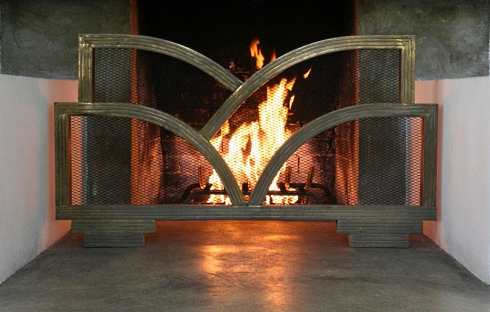 Please check back often or subscribe to our RSS feed,  as we fre- quently add unique antique fire screens to our site.
YOU MAY ALSO LIKE:
Back to Fireplace Screen Designs
Back to Standout Fireplace Designs Home Page


Didn't find what you were looking for?
Use this search feature to find it.

LIKE THIS PAGE?