Antique Fireplace Screens...
Elegant Ember Enclosures!
The antique fireplace screens featured here showcase a collection of some of the finest vintage screens currently available for sale around the world.  Infused with the exquisite craftsmanship of yesteryear, their unique de-
signs and heirloom status make them highly collectible in today's market-
place!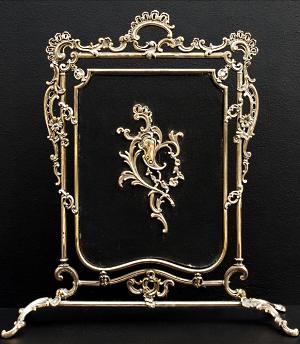 Many of the best antique fireplace screens available today can be found
in Europe -- primarily France and England. The striking examples featured here date from the mid 19th century to the early 20th century.   Pic- tured  above  is  an attractive mid 19th century English brass firescreen from Thornhill Galleries in London. It incorporates a series of scrolls, leaves and flowers in its design.
Pictured at left is a stunning Re-
naissance Revival fire screen from France. Dating from 1875-1880, it features a large and imposing, lav-
ishly carved oak frame surrounding
a beautiful tapestry panel.




The stylish Louis XV style fireplace screen that follows is also French and dates to the mid 19th century. Made of brass, it features female masks, scrolls, foliage and latticework.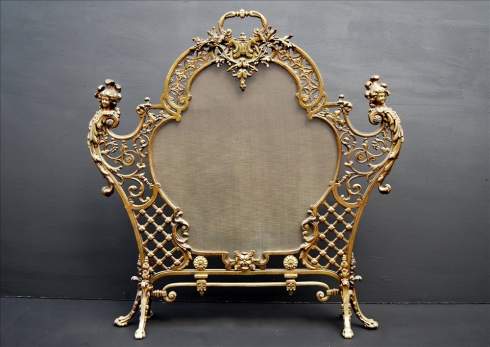 As with the antique fireplace screen pictured above,  the French designs at right and below are from Thorn-
hill Galleries in London, England. The ornate  19th  century  brass  fire screen at right features a flaming urn and birds in the center, framed by delicate rope moulding and bead-
ing.    Flowers,  leaves  and  vines entwine the overall composition.
A pair of cherubs provides the focal point in the late 19th century brass fire screen that follows. Elaborate scroll work and leaves decorate the frame.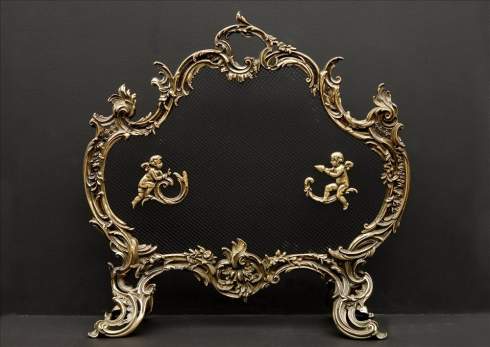 Pictured  below is a late 19th century English Arts and Crafts fire screen from Westland London, based in London, England. Crafted from wrought iron,  it features an arched top frame with brass finials to accent the painted black finish. Centered inside the frame is a highly stylized wheat sheaf inspired beaded fan motif with a gilded center clasp.  Surrounding the elaborate fan motif are stylized olive branches.
The two antique fireplace screens that follow, also from  Westland London,  are  in  the  Art Nouveau 
style. The late 19th century English bronzed iron fire screen  at  right features a stylized grapevine design in repousse metal, framed by bolted strapwork with arched tripod sup-
ports.






More Elegant Antique Fireplace Screens
The beautiful Art Nouveau design that follows is French, circa 1900.    It features a delicately hand carved walnut mantelpiece with imitation Mother of Pearl inlays.    The original fire screen, which echos the detailing of the carved wood surround, is actually an attached two door grill of decorative wrought iron.
See More Beautiful Antique Mantels from Westland London!
The two wrought iron fire screens shown  here  are  from  Thornhill Galleries in London. Pictured at right is a heavy 19th century design with front opening doors that feature ornate scrolling. 


In contrast to this design is the early 20th century example pictured below.    It features very light and delicately scrolled wrought iron work resting on scrolled feet.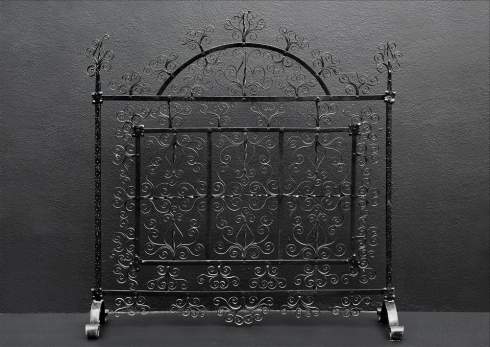 | | |
| --- | --- |
| Another early 20th century wrought iron firescreen is pictured at right. A fine example from Westland London, it features a classical urn with roses, surrounded by scrollwork. | |
And  finally,  the early 20th century fireplace screen that follows is from Thornhill Galleries.  It features cast brass scroll and leafwork, helmets, and an heraldic mask in an elaborate frame. A military figural detail is centered on the mesh screen. Crowning the entire composition is a mythical female figure.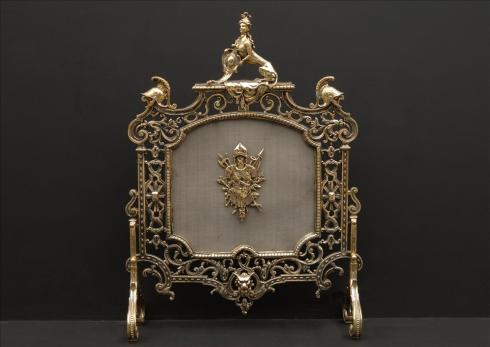 Please check back often or subscribe to our RSS feed,  as  we  fre- quently add antique fire screens to our site.
YOU MAY ALSO LIKE:
Back to Fireplace Screen Designs
Back to Standout Fireplace Designs Home Page
Didn't find what you were looking for? 
Use this search feature to find it.
LIKE THIS PAGE?