The Antique Fireplace UK...
A DEFINITE OK!
The antique fireplace UK or, more precisely, the antique fireplace "kingdom," is a well deserved reference to the unparalleled selection and quality of European made antique chimneypieces available for sale in the United Kingdom today.  If you're looking for a special antique mantel or period piece for your  home, you are likely to find exactly what you want in the UK!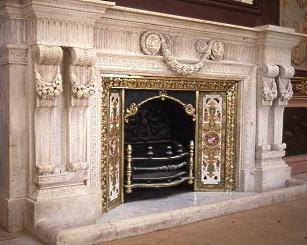 Photo Credit (above): Cliveden Conservation,
Preservationists for The National Trust

A country steeped in tradition, with centuries of rich history behind it,
the United Kingdom's citizens have a deep appreciation for their past.  As
a result, they have taken great pains to preserve their heritage  --  archi- tectural and otherwise.  Fortunately,
the antique chimneypiece is one of the beneficiaries of their preservation and salvage efforts!






You will find antique fireplaces in virtually every traditional European style spanning a period of several centuries.   Beautifully stained hard- woods with hand-rubbed finishes and gilded accents,  rare and richly coloured varieties of marble, and superb examples of metalwork abound.   If you can't find it in the UK, it likely doesn't exist or, at a minimum, is not
currently available for sale.
The antique mantels and surrounds shown below reflect the range of styles available today in the UK and, as of this writing, are available for purchase from Westland London.   If you'd like more information about any of the
chimneypieces depicted here, or if you're looking for something not shown, please contact us and we'll make every effort to help you find your special antique fireplace.
Antique Fireplace UK -- Chimneypieces
from Westland London

MORE Antique Fireplace UK Mantels
& Surrounds from Westland London

Please check back often or subscribe to our RSS feed,  as we fre- quently add antique chimney pieces to our site.
YOU MAY ALSO LIKE:
Back to Antique Fireplace Mantels
Back to Standout Fireplace Designs Home Page
Didn't find what you were looking for?
Use this search feature to find it.

LIKE THIS PAGE?