Art Nouveau Tile Fireplace Designs
Moulded to a "T"
The Art Nouveau tile fireplace designs pictured here include both moulded and tube-lined tiles . . . . .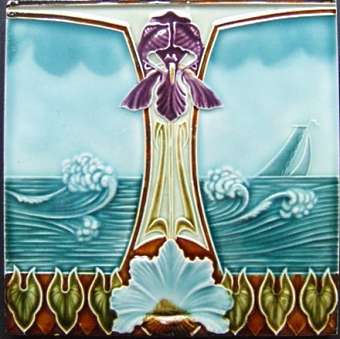 . . . Made from high quality glazed ceramics, they are designed to last a lifetime and to retain their vibrant colors indefinitely!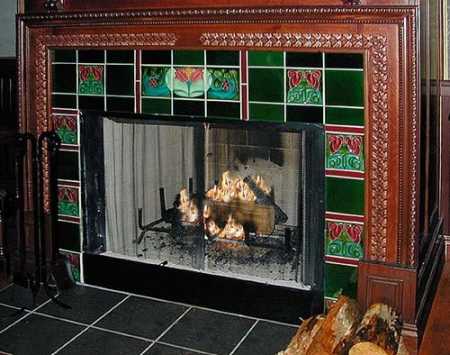 Moulded Art Nouveau Tiles
The reproduction tiles for the Art Nouveau tile fireplace surrounds pictured below are made in the same way as they were in 1910. With deep and lus-
trous hand-painted, high-gloss glazes applied over a moulded base tile, the 6 inch square tiles are 1/4 inch  thick  and  have  slightly  irregular  outside edges.    Based on English tile designs of the period,  they were widely dis-
tributed across the globe, finding their way to a host of different countries including the United States, Canada, Australia and New Zealand.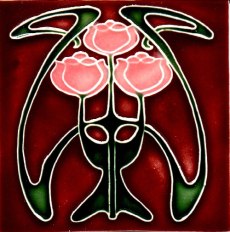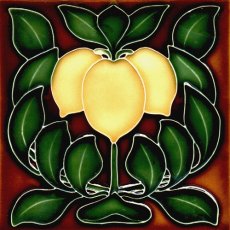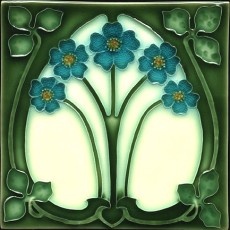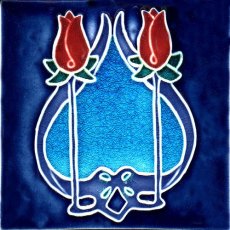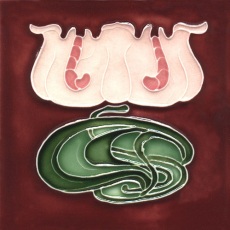 Tile Fireplace Layouts with Moulded Tile
The following examples are suggested fireplace tile layouts, along with a close-up of the moulded tile used in each design.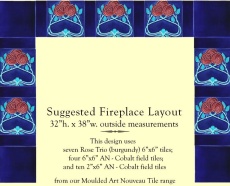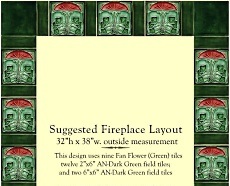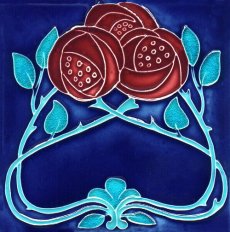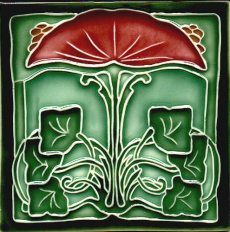 Tube-Lined Art Nouveau Tiles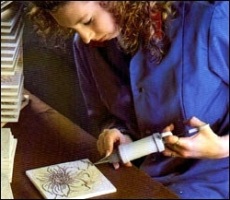 Tube-lining is a highly specialized art, somewhat  like  decorating or icing a cake.    The design is piped onto the
flat tile in the form of liquid clay,  af-
ter which time the glazes are poured into  the  areas  of  the tile that are created  behind  the  shallow "dams" formed  by the tube-lined decoration. Expensive  even in 1900,  due to the difficulty  in  maintaining  consistent quality  control  during  the manufac-
turing process, the attractiveness of these tiles brought about the produc-
tion  of  moulded  art  nouveau  tiles
(above)  as a less expensive alterna-
tive  to  achieve  a similar result in a
rich-looking tile.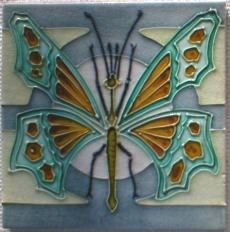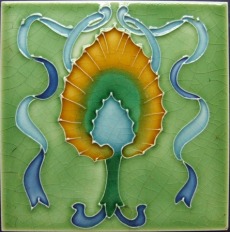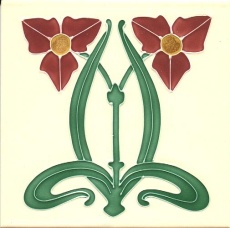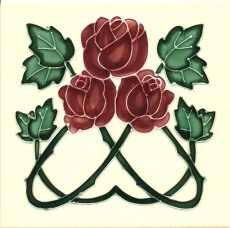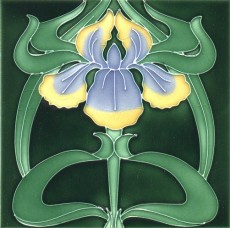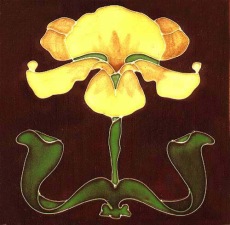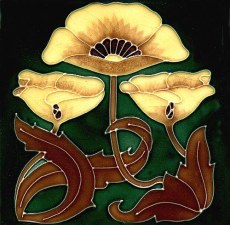 By the start of World War I,  however,  enthusiasm for the highly stylized nature of Art Nouveau design was waning.   The high cost of producing it, as well as changing tastes,  caused a shift in favor of a more streamlined, rectilinear  modernism  that  was  less expensive and believed to be more faithful to the industrial look that subsequently became Art Deco.   Fortu-
nately, a resurgence of interest in Art Nouveau styling in recent years has stimulated the reproduction of related design elements,  including many of the designs shown on this page.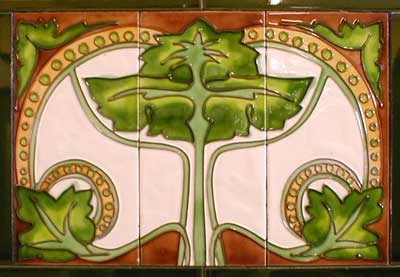 Please check back often or subscribe to our RSS feed, as we fre-
quently add new fireplace tile designs to our site.

YOU MAY ALSO LIKE:


More Art Nouveau Tile Fireplace Designs - Sinuous & Sensual






Standout Fireplace Tile - Arts & Crafts Style!





Unique Arts & Crafts Fireplace Tile Designs





Spanish-Inspired Fireplace Tile Designs
Back to Fireplace Tile Designs
Back to Standout Fireplace Designs Home Page
Didn't find what you were looking for?
Use this search feature to find it.

LIKE THIS PAGE?