Gas Fire Pits...
Ignite Your Imagination!
Gas fire pits, like gas fireplaces, have launched a new era in hearth product design. The use of gas -- both natural and propane -- has given designers and manufacturers unprecedented design flexibility!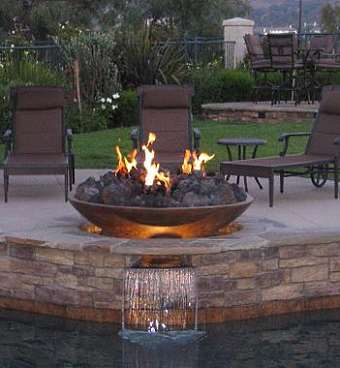 60" Barbados Gas Fire Bowl Pictured Above
No longer relegated solely to designs inspired by camp fires,  the range of designs has evolved in both outward appearance  and in the types of ma-
terials used. Available in virtually ev-
ery conceivable size and shape,  the diverse  array of  materials  includes painted  and stainless steel, copper, natural   and   manufactured  stone, concrete, ceramic, and glass.
If it can be imagined . . . it can very likely be created!

We now have steel and stone fire bowls . . .
and glass fiber reinforced concrete fire urns.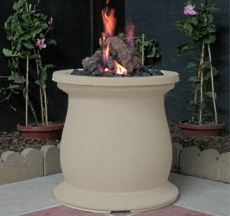 Stainless steel lotus blossoms and Corten steel birds' nests.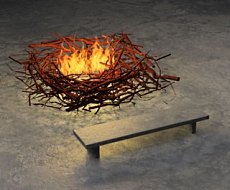 We can combine fire and water for an even more dramatic effect!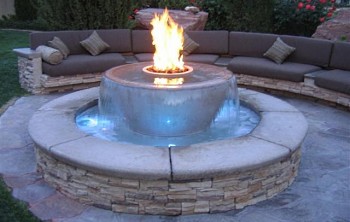 For "fuel" we not only have gas logs, but stainless steel balls . . .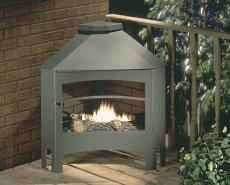 as well as lava rock and colored glass.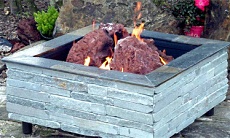 Burners can be fabricated to manipulate the flame pattern on some models.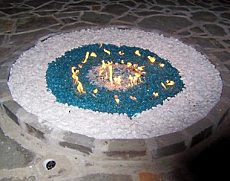 More Gas Fire Pits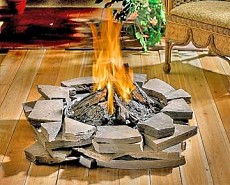 If your tastes are more traditional, there are plenty of other options available. You can get back to ba-
sics with a simple patio "camp fire,"
as shown at right . . . . . .
or other circular designs made of stucco and capped with ceramic tiles, such as the following two examples.
Alternatively, you can opt for a cast stone or GFRC concrete fire pit such as those pictured below.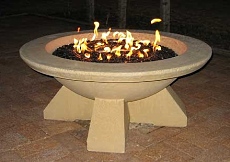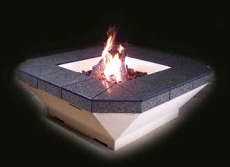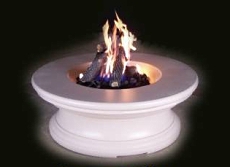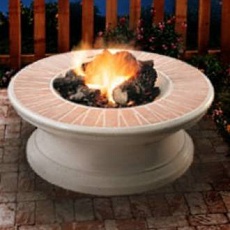 If you prefer the look of natural stone, you can select from a wide variety of stone types including limestone, slate, river rock and ledgestone.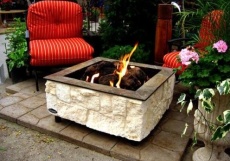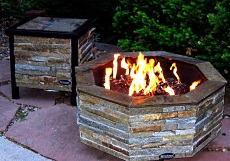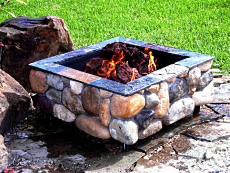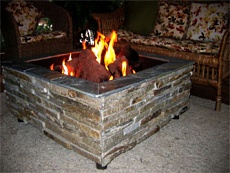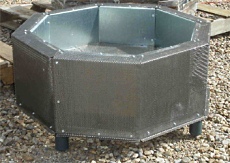 You can even get an unfinished unit (right) and finish it with a material of your choosing . . . . . .
or even match it to your home's exterior.
With so many available options, you are bound to find a gas fire pit that is just right for you!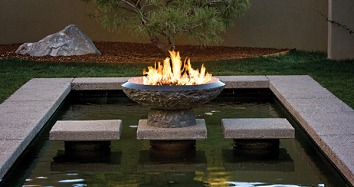 Please check back often or subscribe to our  RSS feed,  as  we  fre- quently add new fire pits to our site.
YOU MAY ALSO LIKE:



More Gas Fire Pits -
Designs That Sizzle!








The Standout Fire Pit -
Material Matters!








Hot Fire Table Designs -
Grill While You Chill!
Back to Standout Fireplace Designs Home Page
Didn't find what you were looking for?
Use this search feature to find it.
LIKE THIS PAGE?