Stone Fire Pit Designs
that Sizzle!
The popularity of fire pit designs continues to soar, regardless of the sea-
son. Whether lounging around an inviting open fire with family and friends on a cool and breezy summer afternoon . . . . . or warming up next to a toasty outdoor blaze on a crisp winter evening, the sights, sounds and aroma of a crackling wood fire are truly irresistible!
As man's first building material,  nat-
ural stone  has a primal appeal unlike any  other  material  used to contain
one  of the most important discover-
ies ever made by humankind -- FIRE!
The multitude of configurations for stone fire pits is virtually unlimited.  Adding to that nearly infinite range of looks is a vast array of stone types, sizes, shapes, colors, textures and finishes.
Gas fire pits provide an even wider range of options to  create  a  uniquely personal look.  For example, the pool-side design pictured below features a firebed of colored glass crystals, from which the flames appear to magically arise!
Similarly,  the large fireballs in the upper level of this striking multi-tiered composition  lend an aura of mystery and enchantment to this warm and inviting fire pit!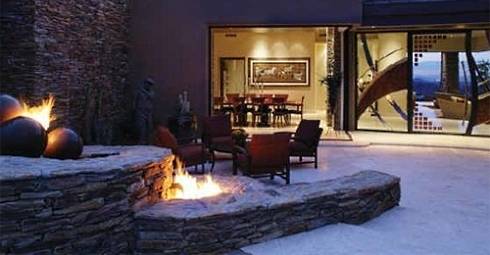 More Gas Fire Pits -
Ignite Your Imagination!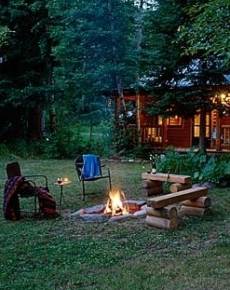 More Fire Pit Designs
In contrast to the "above ground" fire pit designs pictured up to  this  point, the  design  at right and the two that follow are sunken below grade.    The example shown below left comes com-
plete   with   dry stone   benches  for seating  --  crafted  by  the  talented members  of the Dry Stone Wall Asso-
ciation  of  Canada.      On  the  right, another stacked stone bench and fire pit surround contrasts beautifully with an expansive brick terrace.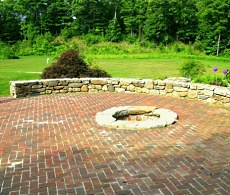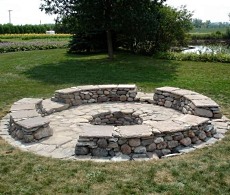 The beautiful flagstone terrace that follows incorporates a sunken fire pit encircled by matching stones that have been cut to fit around the perim-
eter.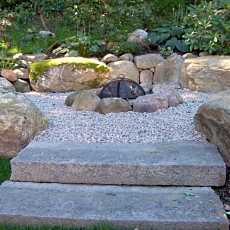 Boulders can also be used creatively in fire pit designs.The example at right -- set on a bed of crushed rock -- utilizes boulders  of  varying  sizes to surround both the fire pit opening,  as well as to provide  substantial seating areas from which to cozy up to the flames.
The following image captured by the talented folks at Roger Wade Studio features  a striking  --  albeit highly unusual  --  fire surround of massive boulders arranged both vertically and horizontally!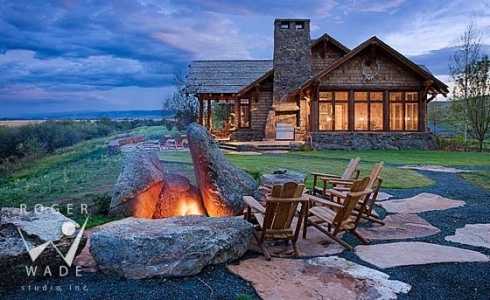 And finally,  though the bioethanol burner featured here is not crafted from stone, I've included it because of the stunning arrangement of stones that "frame" it.    The gigantic boulder spanning the top appears to almost float above the much smaller stones that support it!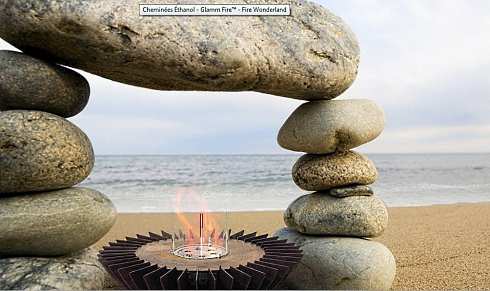 Please check back often or subscribe to our  RSS feed,  as we fre-
quently add new photos of fire pits to our site.
YOU MAY ALSO LIKE:





Stone Fire Pits -
Works of Art!





The Standout Fire Pit -
Material Matters!





Gas Fire Pits -
Ignite Your Imagination!
Return to Standout Fireplace Designs Home Page
Didn't find what you were looking for?
Use this search feature to find it.
LIKE THIS PAGE?