A Seashell Fireplace Surround
Makes A Big Splash!
The striking seashell fireplace surround showcased here is truly one of a kind. Created by Heather Kendall Designs of Tampa, Florida, USA, it fea-
tures a variety of seashell types, shapes and sizes in shades of creamy ivory and white. Shells from clams, snails and mussels adorn the fireplace surround. Artfully arranged with painstaking attention to detail, the over-
all composition -- as well as the firebox, itself -- is framed by delicate "pearl-like" shells to provide contrast and added visual appeal!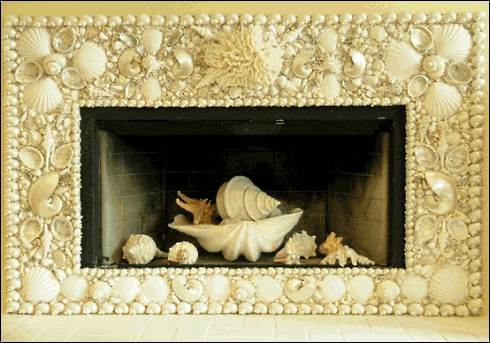 Elegant seashell fireplace surround, above, about $5,000 USD
With summer just around the corner,  our thoughts turn to the great out-
doors. Romping and relaxing on the beach are hallowed summer traditions
. . . as is splashing or playing in the water.    Swimming,  snorkeling, and strolling  are  just  a handful among a host of beach-related activites we associate with the summer season.
Heather Kendall has cleverly turned her love of the beach into a  thriving business.     Traveling to a variety of shores,  she combs the beaches in search of shells for her unique creations.
Environmentally  conscientious,  Heather  also obtains many of the shells
she incorporates in her designs from the seafood industry.  She does not use shells that are endangered or threatened in her seashell fireplace sur-
rounds.
See More Seashell Fireplace Surrounds

Get more exciting hearth designs and design ideas by subscribing to our free monthly e-newsletter.     Simply  enter  your  information  in the  form  below and click on "Subscribe" so you won't miss out on a single future issue!      You'll have access to all back issues,  as  well, when you subscribe!
For More Information About Our Monthly e-Newsletter, Please Click Here.
Please check back often or subscribe to our  RSS feed,  as  we  fre- quently add unique fireplace surrounds to our site.
YOU MAY ALSO LIKE:





Fireplace Design Ideas -
Find Your Perfect Match!









More Fireplace Surround Design Ideas!
Back to Fireplace Design Ideas
Back to Fireplace Design Overview

Back to Standout Fireplace Designs Home Page
Didn't find what you were looking for?
Use this search feature to find it.
LIKE THIS PAGE?