Gas Fireplace Inserts...
A NEW Wave!
A new wave of gas fireplace inserts has hit the marketplace . . . . . . .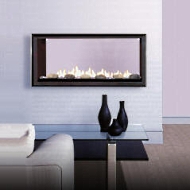 Riding the crest of that wave are designs which feature sand,  beach stones, shells
and driftwood, in lieu of gas logs.

As with wood burning fireplace inserts, gas inserts are designed to fit within existing masonry fireboxes to improve energy efficiency and reduce air pollution -- both indoors and out.   However, from an aesthetic stand-
point, the use of gas as a fuel has opened up another whole arena of new and imaginative design options, as inserts begin to emulate the appearance of leading designs for gas fireplaces, such as the stunning example below.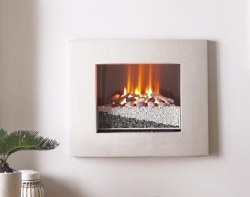 Now, in addition to creating new looks for the face and frame of the insert, designers are able to design the fire, itself, with a variety of unusual flame patterns . . .
and unconventional fuel bed materials. No longer relegated solely to the ubiquitous gas log set, the gas fueled insert can be fitted with gravel, peb-
bles, twigs, glass crystals, and a variety of geometric shaped ceramic stones to achieve a wide range of unique and dramatic looks.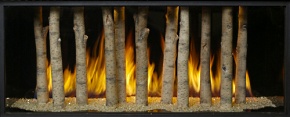 The following images reflect a sampling of the new wave of products available today in a variety of both traditional and contemporary styles. Compared to their predecessors, they elevate gas insert design to a whole new level!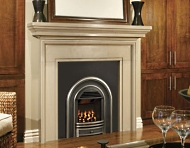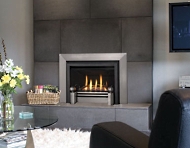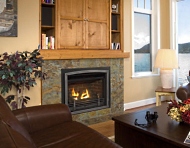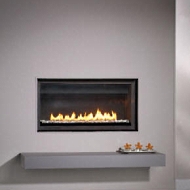 Due to the nature of the fuel, both gas fireplaces and gas inserts are among the leaders in cutting edge design. Brace yourselves for a host of exciting new products in the not too distant future, as this is only the beginning!
Please check back often or subscribe to our RSS feed,  as  we  fre-
quently add new images of gas fireplace inserts to our site.

More Photos of Gas Fireplace Inserts

Other Fuel Options

HPBA Consumer Information - Inserts
Back to Standout Fireplace Designs Home Page
Didn't find what you were looking for?
Use this search feature to find it.

LIKE THIS PAGE?