IDEA OF THE MONTH...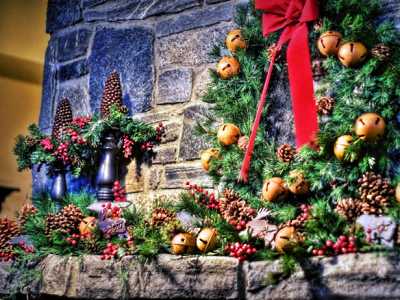 Photo Credit: Samantha Decker
How To Create A Heartwarming,
Happy Holiday Hearth!
Be the first to discover a myriad of fireplace design ideas and tips by sub-
scribing to our monthly newsletter! Each issue features a design Idea Of The Month with beautiful photos to inspire you and -- more  importantly -- to help you discover new and creative ways to personalize your OWN special Fire Space!
---
If you like this newsletter, please do a friend and us a big favor and "pay it forward."    If a friend DID forward this to you and you like what you read, please subscribe by visiting our informative subscription page.
---
DECEMBER, 2011 -- ISSUE #02
This month's Fireplace Design Idea Of The Month features the heart-
warming, happy holiday hearth . . . . and how to decorate a rustic stone fireplace for the holidays. Using primarily natural materials such as boughs of holly, red berry accents and woody pine cones, a little bit goes a long way!
The beauty of stone is undeniable. In the hands of a skilled artisan, stone -- in its natural state -- can be used to create a fireplace that makes a dramatic design statement . . . . as if Mother Nature, herself, guided the stone mason's hands! Consequently, it doesn't necessarily require a lot of time and effort -- or costly decorations -- to create a memorable holiday hearth. All it takes is just a little "icing on the cake" to prepare your rustic stone fireplace for the holiday season!
Branches, Boughs & Berries!
By using just a few simple natural organic materials that are readily avail-
able almost anywhere, you can easily create a festive holiday hearth. For example, employing bare branches, evergreen boughs and cranberries -- alone or in combination with one another -- can yield striking results, as shown in the photos below!
The holiday hearth pictured directly below is crafted from fieldstone and features a rustic hand peeled log mantel shelf. A bare branch flanks the left side of the firebox opening. Evergreen boughs line the mantel shelf,
on top of which rests a wreath made of pine cones.
The heartwarming, happy holiday hearth in the two photos that follow provides the focal point in this rustic and cozy Adirondack Style living room. Also crafted from fieldstone, it is flanked by a white birch tree trunk on one side. A large, unadorned evergreen wreath hangs above the mantel shelf to soften the stone massing. Though rather sparsely decorated, the overall composition simply oozes with the spirit of the holidays!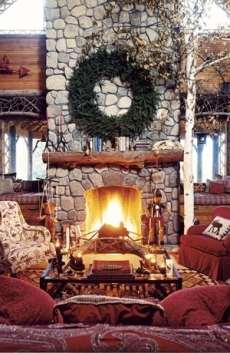 The winter display on the hand-hewn mantel pictured below features berry-laden wreaths, a vintage lantern, miniature pine trees carved from wood, and an assortment of red and white candles. Located at the Vista Verde Guest Ranch in Steamboat Springs, Colorado, this rustic composi-
tion can be displayed all winter long.
And finally, the heartwarming, happy holiday hearth that follows is crafted from river rock. Captured through the camera lens of renowned architec-
tural photographer, Roger Wade, it features a large piece of natural drift-
wood supported by log corbels above the arched firebox opening. Fes-
tive greenery cascades from the driftwood, while pots and baskets of red poinsettias below add to the holiday mood.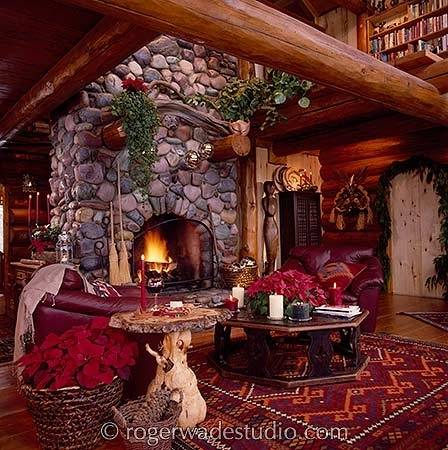 See More Heartwarming, Happy Holiday Hearth
Designs By Clicking On The Following Links!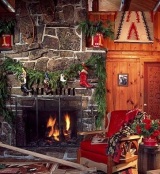 More Rustic Happy Holiday Hearth Designs -
Spruce Up Your Stone Surround!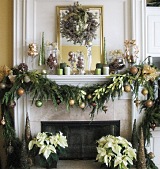 Standout Christmas Fireplaces -
Colonial To Classical!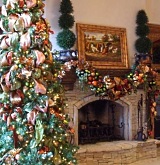 Christmas Tree And Fireplace Photos -
Cozy And Colorful!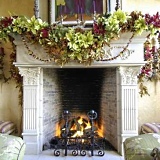 Extraordinary Christmas Fireplace Designs -
Chic And Unique!







Christmas Decorating Fireplace
Ideas...NATURALLY!




COMING NEXT MONTH:

How To Create A Striking Plasma
Television Fireplace Surround!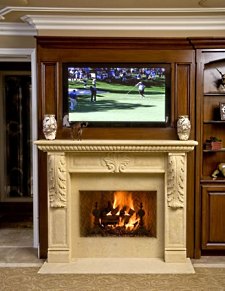 See A Sampling Of Fireplace Design Ideas In
Upcoming Issues Of Our Monthly e-Newsletter!

New!

Comments Have your say about what you just read! Leave me a comment in the box below.