Nantucket Natural Stone Fireplace
Meets North Florida!
by Todd & Jennifer
( Buffalo, NY USA)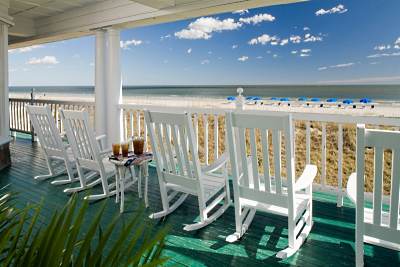 Overlooking the Atlantic
I stumbled upon one of my favorite natural stone fireplace designs during a much anticipated vacation with my wife, Jennifer, in February last year. After experiencing a particularly harsh winter in our home town of Buffalo, New York, Jennifer and I were especially anxious to sink our toes in the warm, wet sand of Florida's Atlantic coast.

After a wonderful summer vacation 2 years earlier on the island of Nantucket, imagine our surprise when we arrived at Elizabeth Pointe Lodge in Florida in the dead of winter! Located on the eastern edge of Amelia Island just 30 minutes from Jacksonville, our arrival at "The Lodge" seemed as if we'd been transported back in both time and place to the nostalgic ambience and charm of Nantucket.

Overlooking the turquoise blue waters of the Atlantic Ocean, a visit to the Elizabeth Pointe Lodge is like taking a step back in time. According to its promotional material, "the main house is constructed in an 1890's 'Nantucket shingle-style' with a strong maritime theme." The photo above is clearly indicative of that.

However, lest there be any doubt, the stunning natural stone fireplace in the den/library of "The Lodge" took us back in time and place and stirred the fires within. Jennifer and I had the most relaxing time sitting in front of the rugged but cozy hearth while gazing out at the pristine waters of the great Atlantic. It was truly an experience that neither of us will ever forget!

Best Wishes,

Todd & Jennifer


Dennis' Reply: Todd & Jennifer -- Having vacationed on Nantucket a number of times over the years, I very much share your love of the island and its architecture. Your Florida vacation destination bears an uncanny resemblance to the buildings -- and cozy stone fireplaces -- I have seen on Nantucket! Thanks for sharing your "discovery" and beautiful pics!
Click here to read or post comments
Join in and write your own page! It's easy to do. How? Simply click here to return to Favorite Stone Fireplace Designs.