A Victorian Christmas Fireplace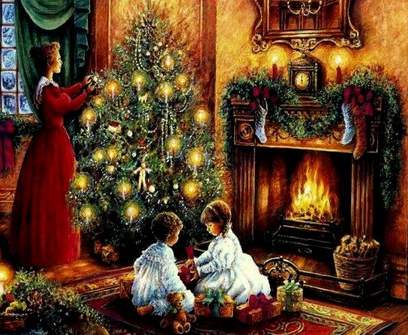 Yuletides of Yore!
Be the first to discover a myriad of fireplace design ideas and tips by sub-
scribing to our free e-newsletter!  Each issue features informative design ideas with beautiful photos to inspire you . . . and help you discover new and creative ways to personalize your OWN special Fire Space!
---
If you like this newsletter, please do a friend and us a big favor and "pay it forward."    If a friend DID forward this to you and you like what you read, please subscribe by visiting our informative subscription page.
---
DECEMBER 23, 2012 -- ISSUE #08

Take a Step Back in Time . . . . .
This issue of our Fireplace Design Ideas e-newsletter offers a glimpse of Victorian exuberance in holiday hearth decor. See how one designer met the challenge of creating an elegant, but festive holiday decorating scheme befitting the splendor of a grand Victorian room.
Nestled in a secluded hillside setting overlooking New York's Hudson River, Wilderstein is a gracious 19th century country house in Rhinebeck . . . just a short drive from New York City. Each year, this grande dame of Queen Anne architecture in the Hudson Valley is transformed by florists and designers into a Christmas holiday extravaganza.
Warm, richly finished paneling and a carved and coffered ceiling lend old world elegance to Wilderstein's formal dining room (below).    Not to be outdone, the imposing mantelpiece soars from floor to ceiling. Handcarved and crafted, the wood mantel frames a firebox surround of dark marble.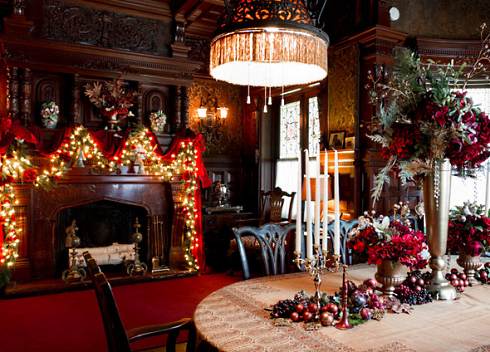 Photo Credit (above): Rikki Snyder
Get Inspired with Visions of Victorian Grandeur
Decked out for the holidays by Tess Casey of Aisling Flowers, based in New York City, this holiday hearth evokes the exuberance of a Victorian Christmas. An evergreen garland draped in red fabric festoons the fireplace mantel. Strings of tiny white lights weave their way through the greenery, while bell-shaped ornaments dangle from above.    Red roses garnish the evergreen garland to enhance the romantic charm and ambiance of this warm holiday setting!
Photo Credit (above): Rikki Snyder
See Victorian Christmas Fireplace Photos of a Gilded Age Icon!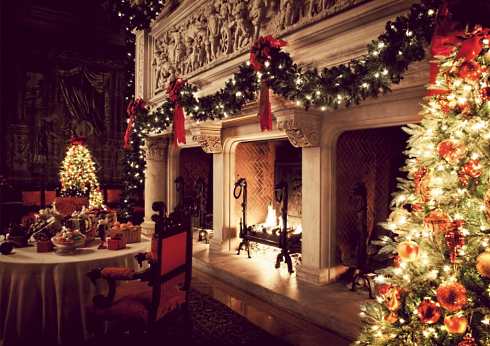 HAPPY HOLIDAYS TO ALL OUR READERS!
See More Christmas Fireplace Ideas
by clicking on the Following Links!






Holiday Fireplace Photos -
A Gilded Age Christmas!







Standout Christmas Fireplaces -
Colonial to Classical!







Christmas Decorating Fireplace
Ideas.....NATURALLY!




See a Sampling of Fireplace Design Ideas
in Upcoming Issues of our e-Newsletter!