Stone Fireplace Designs Pictures...
Cozy Classics!
The stone fireplace designs pictures featured here show classic timber frame and log home hearths in warm and inviting settings. Oozing period charm and ambiance, they beckon us to gather round to enjoy their cozy warmth, flickering flames and crackling embers!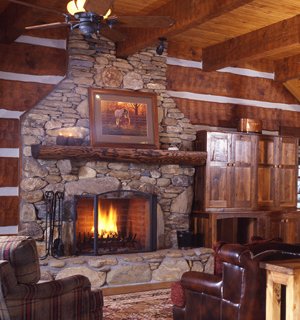 Design above by Hearthstone Homes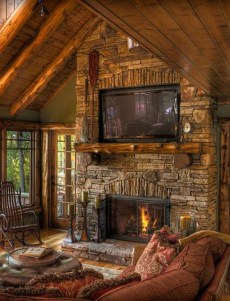 Though stone has been used for cen-
turies  to  erect  fireplaces, its broad appeal is timeless.  When paired with talented stone artisans,  the  results can be extraordinary!
(Design at right by Land's End Development)
The cozy stone hearth pictured below was designed by Platt Architecture. Crafted from roughly square and roughly rectangular stone blocks,  it fea-
tures  built-in  storage areas on either side of the firebox opening for fire-
wood and fireplace accessories.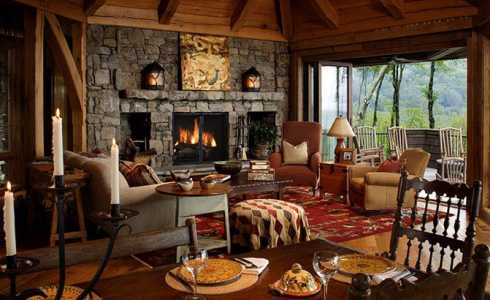 The striking design pictured below, left, is by PrecisionCraft Log & Timber Homes. It features a large stone lintel above the firebox opening.  Below, right, is an impressive design by Custom Mountain Architects.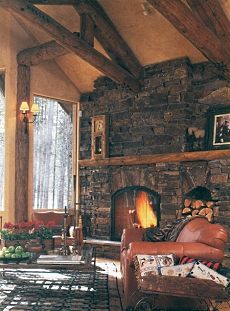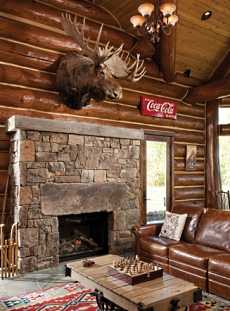 The massive stone fireplace that follows is also by Custom Mountain Archi-
tects.     It  features a wide log mantel shelf supported by log corbels,  or brackets.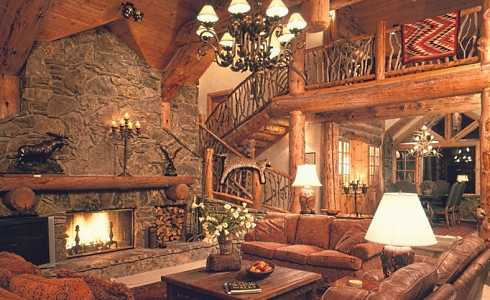 Pictured below, left, is a log home fireplace design by architect Dan Mur-
phy.   On the right is another massive design by Custom Mountain Archi-
tects.  It is crafted from river rock and beach pebbles.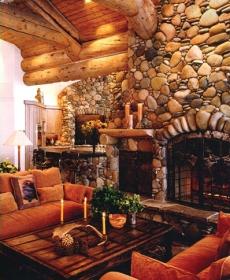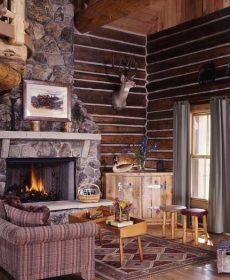 The stunning stone fireplace design that follows is the  focal  point  in  an equally stunning Great Room. This beautiful timber frame home is the work of RMT Architects.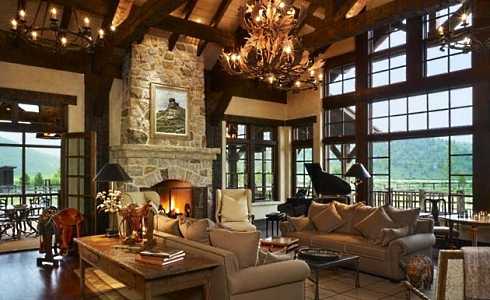 The three stone fireplace designs pictures that follow present a study in contrasts.    The design on the left is crafted from cut stones and has a relatively smooth finish . . . . . . while the design on the right uses large, rounded river stones in their natural state.   The design directly beneath them is crafted from split-faced stone, giving it a textured finish.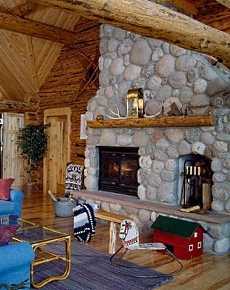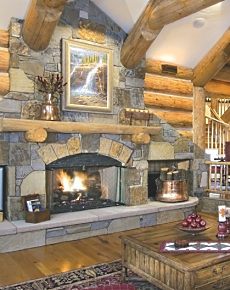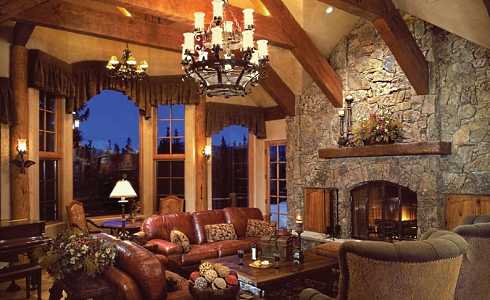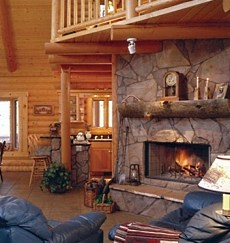 The corner fireplace design pictured
at  right  is  by PrecisionCraft Log & Timber Homes.  It is clad with large, irregular  pieces  of  flagstone   and
sports a natural log mantel shelf.
More Stone Corner Fireplace Designs


And  finally,  the stone fireplace design that follows is yet another fine ex-
ample of the work of Custom Mountain Architects.    Note how the arch at the top of the overmantel echos the arched stone firebox opening beneath it.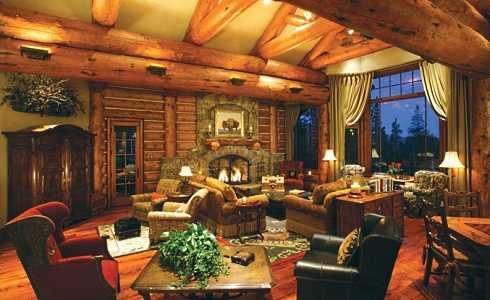 For more information about  any  of the stone fireplace designs pictures above, please let us know and we'll be happy to provide it for you.
Also,   please  check  back  often
or subscribe to our RSS feed,  as
we   frequently  add  new  stone fireplace designs pictures to our site.

YOU MAY ALSO LIKE:





More Stone Fireplace Designs Pictures -
Handcrafted Hearths!





Stone Fireplace Pictures -
EXTRA Extraordinary Designs!





Standout Fireplace Pictures Stone -
Art For The Ages!


Back to All Rustic Rock Fireplaces
Back to All Stone Hearth Categories
Back to Standout Fireplace Designs Home Page
Didn't find what you were looking for?
Use this search feature to find it.
LIKE THIS PAGE?