Arts and Crafts Fireplaces...
Finely Crafted

Fire Spaces!
Arts and Crafts fireplaces are generally the focal point of a Craftsman Style home. An open floor plan, which is typical of the style, affords easy access and an unobstructed view of the hearth.   As a result, the fireplace is a prominent architectural element that often sets the tone for the overall style and decor of the home's interior.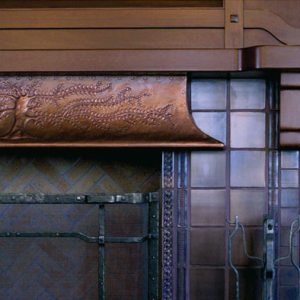 Fireplace Hood Detail (above)
by Archive Designs in Eugene, Oregon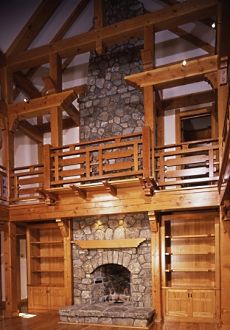 The  designs  pictured  here  are   ex-
traordinary examples of the style and reflect  the  outstanding  quality  and craftsmanship  that  goes  into creat-
ing   and   executing  these  veritable works  of  art.   Whether  made  from wood,  stone,  tile,  copper or forged
iron . . . or  any combination of these materials  . . . . . . . the  finely  craft-
ed handiwork and superb detailing are  a  powerful and tangible testament to the  philosophy and ideals of the orig-
inal Arts and Crafts Movement . . . . .
and, in large part, the very reason for its  subsequent  revival  and immense popularity, once again, today!
The copper hood or canopy was frequently employed in the design of Arts and Crafts fireplaces.  The beautiful example pictured below, by Archive Designs in Eugene, Oregon, is a stunning tribute to that particular design element!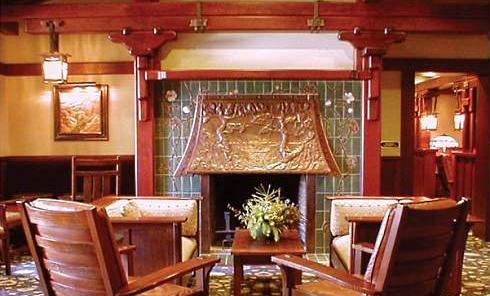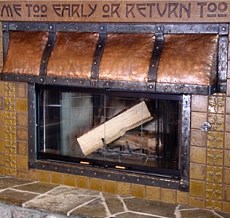 Similarly, the present-day example pic-
tured  at  right is combined with hand-
forged  iron and placed above an  Arts and Crafts tile  surround  to  create  a very striking composition.  Once again, this  design -- as well as the two that follow -- are  from the highly skilled ar-
tisans at Archive Designs.
In the examples below,  the entire sur-
round  is  crafted from hammered cop-
per and forged iron.   Note the beauti-
fully  detailed  repousse  panels in the example on the right.
Not to be left out,  the finely crafted wood mantels and surrounds pictured below are veritable masterpieces of the woodworker's art. Note the precise fit and finish of the two mantels in the close-ups directly below,  as well as the beautifully detailed corbels, or brackets,  supporting the mantel shelf in the example at bottom. (Design pictured below, right, from Hazelmere Mantel)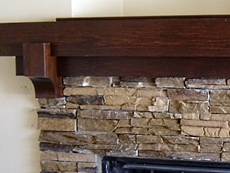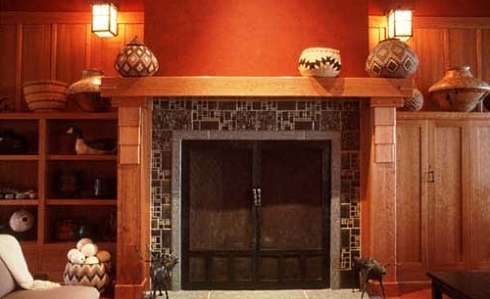 In the following examples, the Arts and Crafts detailing has been extended beyond the fireplace to include the window and/or ceiling treatment.   And once again, the fit and finish in each example is superb!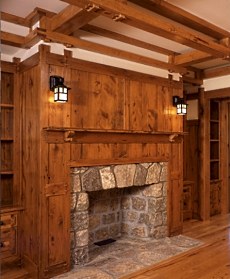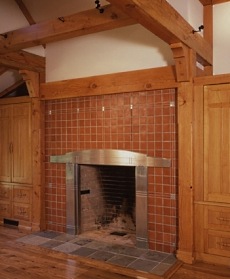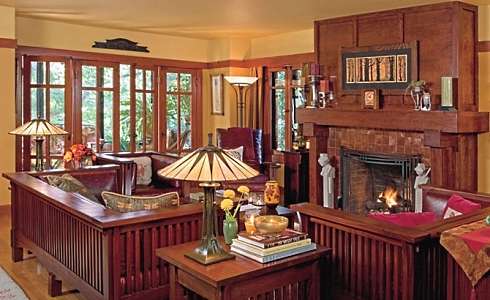 Though more common in Europe than America, natural stone is also used to make Arts and Crafts fireplaces.  The simple but elegant limestone designs pictured below are made in England.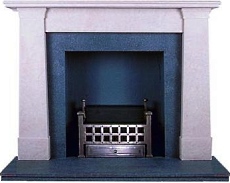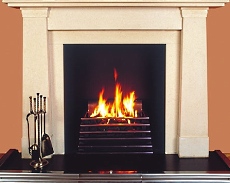 Accessories for Arts and Crafts Fireplaces
With  an  Arts and Crafts fireplace,  the design of accessory items such as fireplace  doors  and  screens  is  as important as the design of the mantel
and  surround  to ensure an authentic Arts and Crafts look.    As  with  the mantel  and  surround,  no  design element or detail is too small or insignifi-
cant to be overlooked.  Consequently, like the reproduction metalwork and Arts and Crafts tiles shown above, some extraordinary handcrafted designs for  fireplace  doors  and screens are being produced that capture and em-
body the essence of traditional Arts and Crafts design. Following are a few striking  examples  of hand-forged designs from Archive Designs in Eugene, Oregon.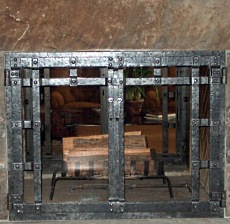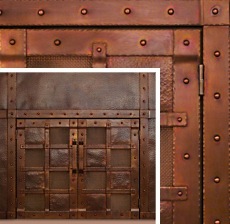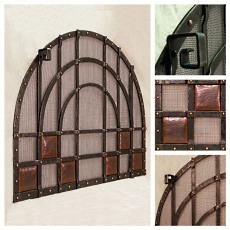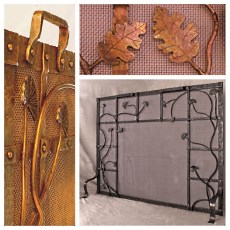 Please check back often or subscribe to our RSS feed,  as  we  fre- quently add new Arts and Crafts designs to our site.
YOU MAY ALSO LIKE:



MORE Arts and Crafts Fireplaces!




Standout Craftsman Fireplace Designs!




MORE Standout Craftsman Fireplaces!




Rock Out with Craftsman
Country Rock Fireplaces!




Contemporary Craftsman Fireplace
Hearths...New Twist on an Old Theme!




The Craftsman Fireplace Mantel Shelf -
Crafted to Perfection!




Standout Fireplace Tile -
Arts and Crafts Style!




MORE Fireplace Tiles...
In Arts & Crafts Styles!



Back to Fireplace Mantel Designs
Back to Standout Fireplace Designs Home Page
Didn't find what you were looking for?
Use this search feature to find it.
LIKE THIS PAGE?